Ness Lee & Chief Lady Bird- June 3-June 30
Hosted at Underscore Projects* – 1468 Dundas St W, 2nd Floor
*This location is not an accessible location due to two narrow staircases.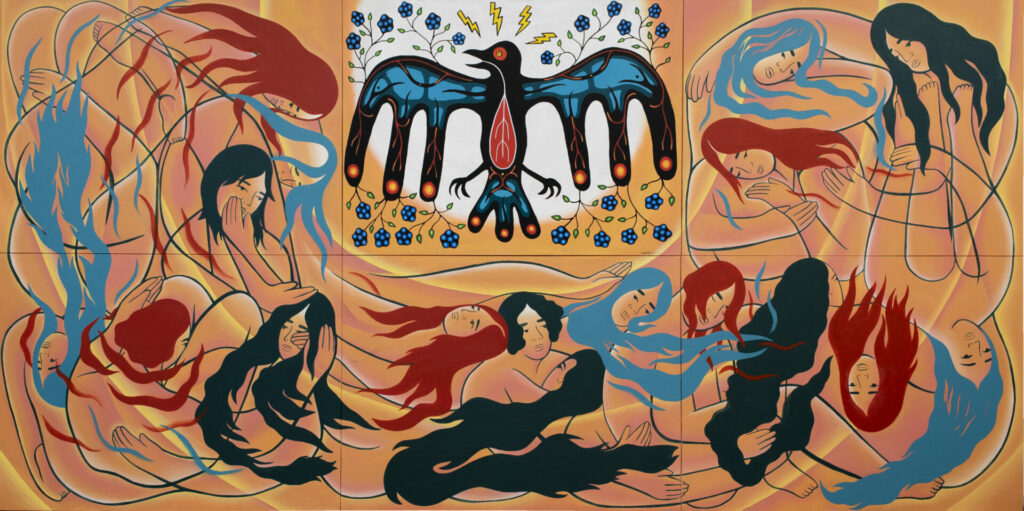 We as a community are all connected – with this mural we wanted to express this interconnectedness visually as the lines of the figures continuously meet and join, begin and end with one another, live and breathe together as a collective whole.
This mural was born in collaboration with Ness Lee and Chief Lady Bird. Chief Lady Bird's work beautifully emanates from the center of the mural amidst the sun-like rays, with Ness Lee's figures in the surroundings.
With thoughts of how these organizations and communities need to be able to lean on each other in the hope that these efforts of love and care put forth are to grow towards a better future together, in support of one another.
---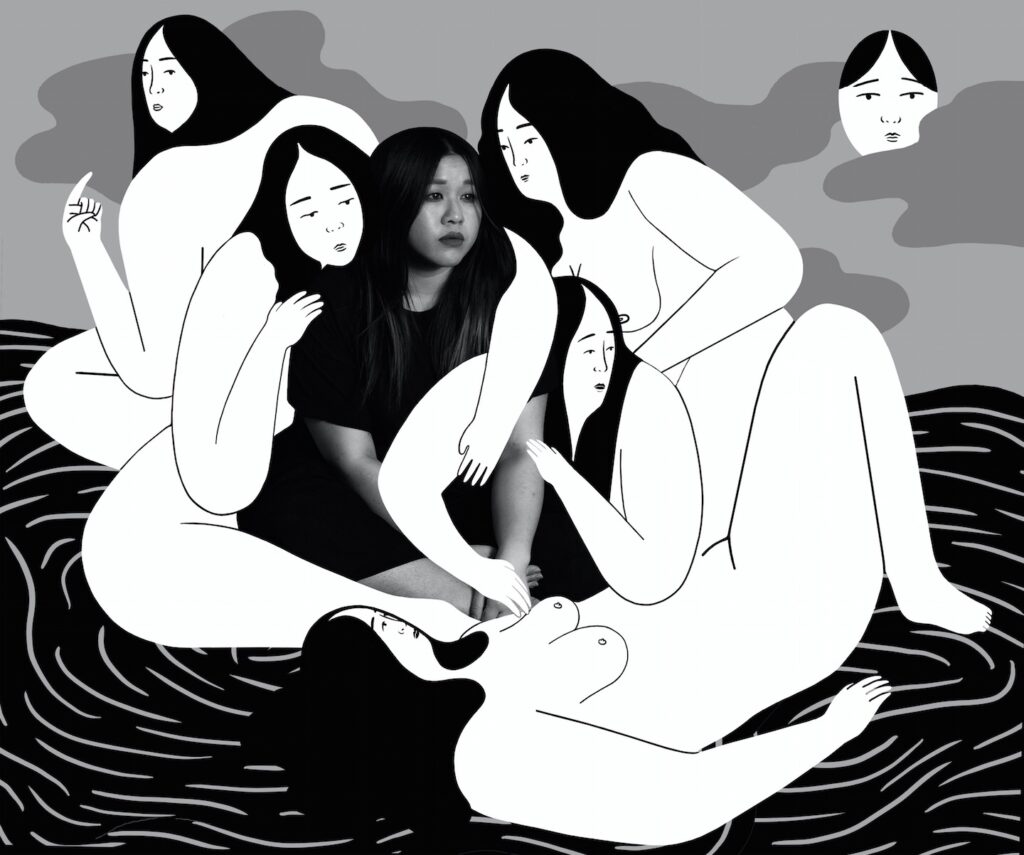 Ness Lee
Ness Lee draws upon history and personal narratives to create tender and surreal illustrations, paintings, sculptures and installations. Exploring states of mind during intimate stages of vulnerability, Lee's work takes form as an effort in seeking comfort, forgiveness and desire for an end of a self-perpetuated state. Based in Toronto, their work has been featured at the AGO, Agnes Etherington Art Centre, Art Gallery of Hamilton, as well as galleries in New York, Boston, Los Angeles, Montreal and Toronto. Lee has also participated in mural festivals in Canada and Internationally in Hyderabad, India and Cozumel, Mexico.
IG: @nessleee , TW: @nessnesslee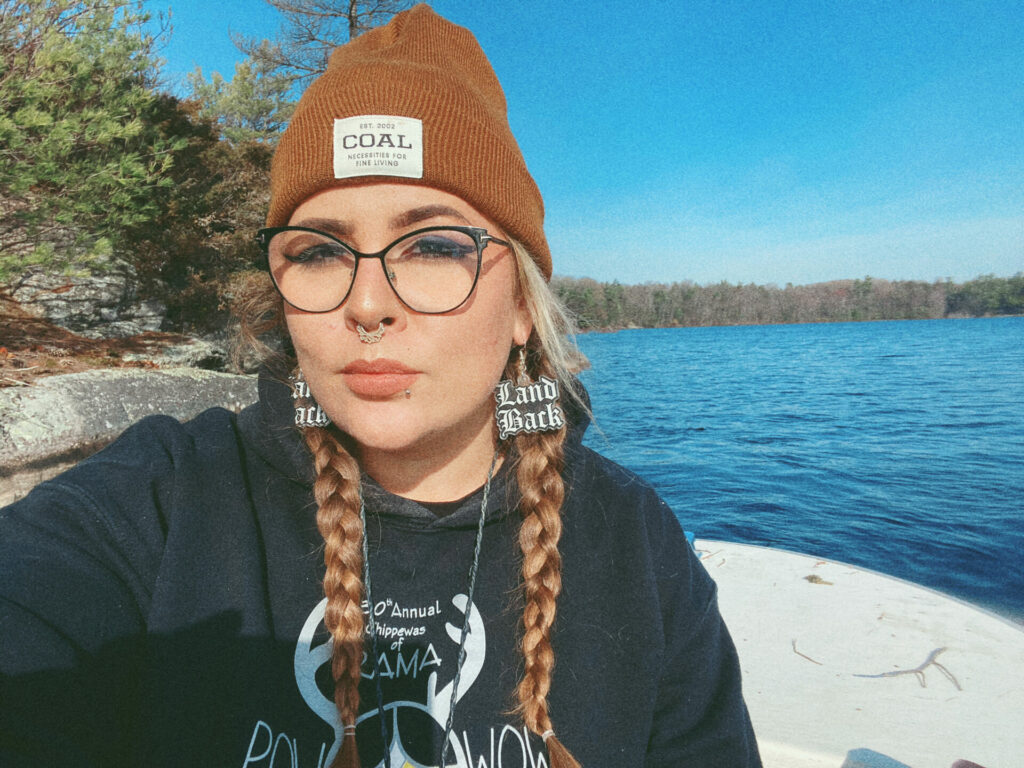 Chief Lady Bird
Chief Lady Bird is a Chippewa and Potawatomi artist from Rama First Nation and Moosedeer Point First Nation, who is currently based in Rama. She graduated from OCAD University in 2015 with a BFA in Drawing and Painting and a minor in Indigenous Visual Culture. Chief Lady Bird's art practice is continuously shapeshifting, and is always heavily influenced by her passion for empowering and uplifting Indigenous folks through the subversion of colonial narratives. She utilizes her social media platform(s) along with digital illustration, acrylic painting, mixed media portraits, and murals to centre contemporary truths and envision Indigenous Futurisms by portraying intersectional Indigenous experiences and asserting our presence on stolen land. Specifically, much of her work is based on the stories we tell through the reclamation of our bodies and sexuality, which often intersects with land sovereignty and language reclamation, and activates peripheral dialogues about tattooing practices, cultural appropriation, reconnection and various forms of love (self love,lateral love, ancestral love). She hopes that her images can be a catalyst for reimagining our relationship with the land, each other, and ourselves. Chief Lady Bird has illustrated for notable organizations such as Chirp Magazine, Flare Magazine, the Art Gallery of Ontario, Scholastic and Vice News to name a few. In 2019 she provided the illustrations for the animated video "Land Acknowledgements And Why Are They Important" by Selena Mills and Local Love, which has been circulated widely throughout many educational institutions to guide educators toward a deeper understanding of Land Acknowledgements and their cultural significance. She also created the book cover design for Cherie Dimaline's The Marrow Thieves UK release, and designed the #IndigenousPeoplesDay Turtle Island emoji for Twitter in 2018. In 2019, Chief Lady Bird illustrated the Scholastic children's book Nibi's Water Song authored by Sunshine Tenasco of Her Braids. This book follows the journey of a young Indigenous girl who fights for clean water for her community. As quoted by Quill and Quire: "Tenasco writes openly and honestly about the unequal treatment of Indigenous communities in Canada. Nibi's song conveys the powerful message that clean water is a basic human right that should be afforded to everyone regardless of their ethnicity. The book successfully functions as a catalyst for an important conversation between parents and children."
IG @chiefladybird , TW @chiefladybird , FB chiefladybird