DIY Skate Toronto x Tea Base- June 3-June 30
In partnership with MOCA Hosted at stackt market – 28 Bathurst St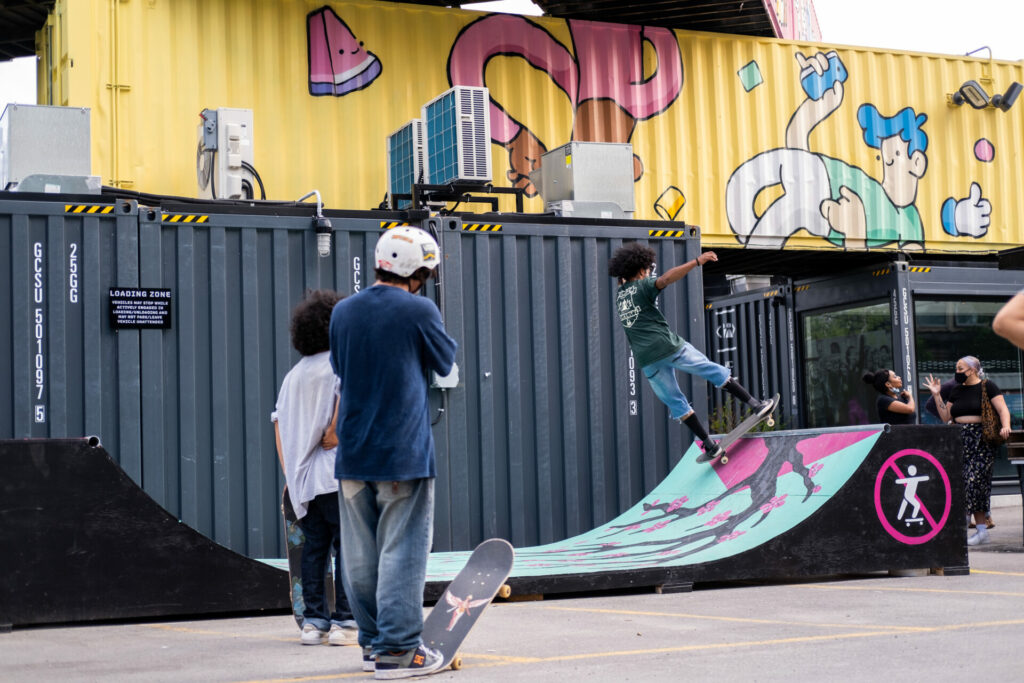 Skating challenges who is or isn't allowed to take up space, what space can and cannot be used for. No Skateboarding is a month-long pop-up mini ramp installation at stackt market that asks us to reimagine our relationship to art, creation and destruction. The juxtaposition of a built-to-skate-feature, and the presence of "No Skateboarding" signs, lends itself to a human curiosity, while commenting on the perceived immutable nature of passive, hostile signage.
Skating as a culture subverts the sterility and mundanity of public spaces by skating it. No Skateboarding inquires more critical observations of everyday demands from the writing and the signs all around us. Built by the DIY Skate Toronto community and painted by Caitlin Taguibao representing Tea Base in residency with the MOCA. No Skateboarding invites people to interact through familiar colorful design, as homage to MOCA's current exhibition, Michael Lin's Archipelago.
Photo Credits to Jack Sykes @js_jpeg
---
Jay Philips
Jay Phillips aka pothound, is a queer, trans, Scarborough born, Trinidadian raised Space Maker, Producer, Skater, DJ, Sound Nerd and general shit talker living in Tkaronto/Toronto. A leader in the skate community, Jay is involved through Christie Pit's Grrrl's skate and their own event, DIY Skate TO. They can be found across the few skateparks Toronto calls its own. Jay is also the current Technical Director of Tea Base.
@pothound, @tea.base
DIY Skate Toronto
DIY Skate Toronto is a pop-up skate park that takes over the street and challenges us to reimagine our relationship to the land. It was created out of a lack of un-commodified space in the city, a need for community programming in the skate community, and a shortage of serviceable parks for skaters to gather. It is a place to enjoy the vibes, eat a shared meal and throw down a sick sesh.
@diyskatetoronto
Caitlin Taguibao
Caitlin Taguibao is a freelance illustrator and mural painter based in Toronto, Canada. She has created visuals for various non-profit and community organizations whose main focus is on food and agriculture, and has spent time working in urban gardens and organic farms across Canada. Her work is inspired by plant lore and personal stories, exploring moments of self-reflection and growth.
@taggybowow