Aude Guivarc'h – June 3-June 31
Hosted at Underscore Projects* – 1468 Dundas St W, 2nd Floor June 3 – 30
*This location is not an accessible location due to two narrow staircases.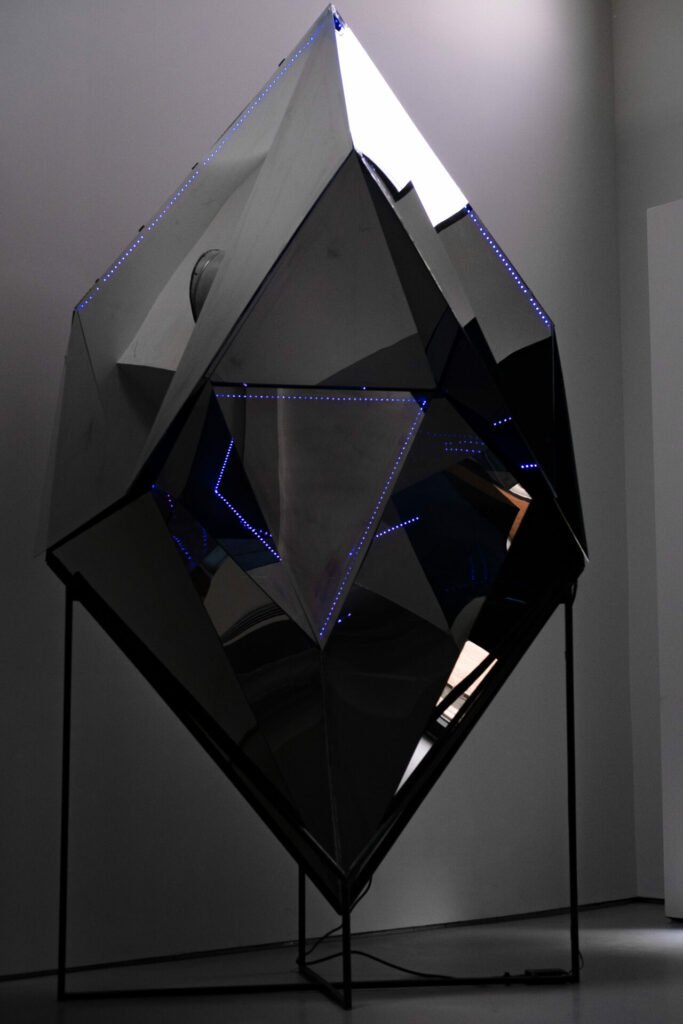 "A reflection on the invisible", is a discussion about the unseen.
Daylight renders this installation highly reflective, it mirrors people, their environment. In a way, the sculpture fades into its surroundings during the day. At night, the semi-transparent two-way mirror doesn't reflect as much, thus letting the inner lighting define the shape of the sculpture.
Seldom ostracized by society, with limited visibility and support, queer, trans, and people of color can often feel like they don't belong. At night, home and safe within their community, they can truly be themselves and shine their true light.
Here the dichotomy of night and day here symbolizes how alienated people might choose to camouflage into society by reflecting what it wants to see.
The sculptural shape of this polygonal installation reverences the vulva. Large in size, it is staged as an imposing yet graceful monolith, defying society's oppression and inculcating respect. For the artist, representing the vulva is a symbolic gesture, referencing Pierre Courbet's L'origine du Monde (The Origin of the World) and protesting the disproportionate presence of male genitalia against female's in popular culture, tv, movies and art. By choosing the symbol of the feminine organ, the artist creates a correlation between femininity and the inner strength this organ possesses.
---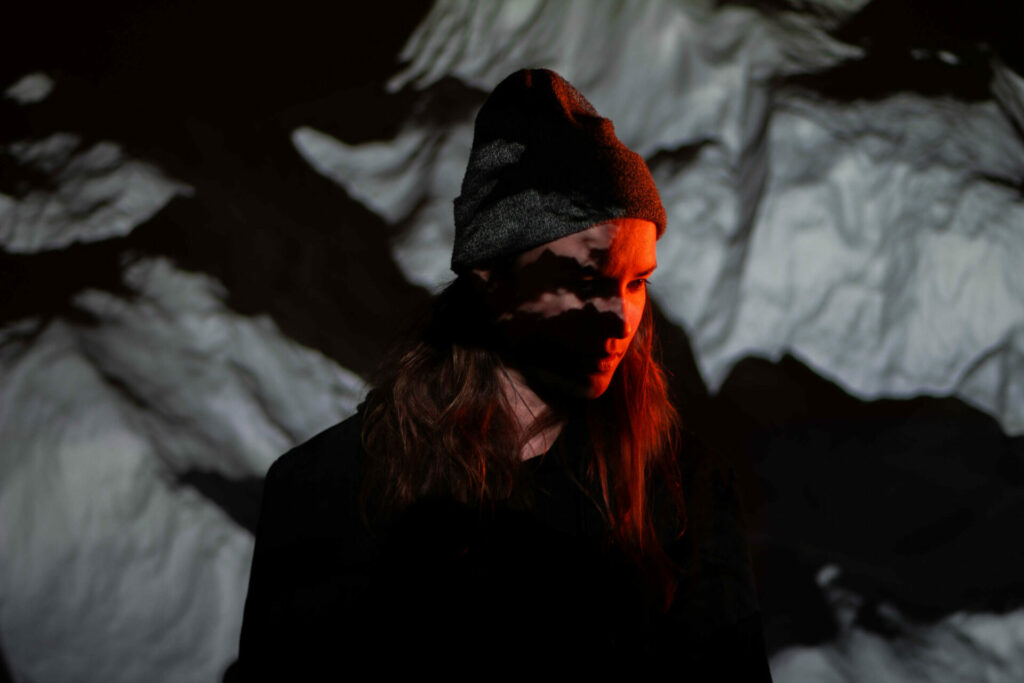 Aude Guivarc'h (She/Her)
Aude Guivarc'h is a new media and digital artist, She finds her inspiration in nature, music and new technologies. This is reflected in her works through the use of patterns and movements that recall the forces of nature, but also her fascination with fractals, the human body and musical rhythm. In her work, Aude questions our relationship to nature and the ecological issues humans face, with a feminist and socially engaged approach.

Aude is a Franco-Québécoise female-identified queer artist. Sensitive to the intersectionality between feminism and ecological issues, she works towards developing a dialog between eco-feminism and technology overuse.

At the crossroads between visual arts and new technologies, Aude develops her ideas using drawing, mural painting, calligraphy, sculpture, photography, 3D modeling, motion design and interactive design to create fascinating, vertiginous and provocative universes. Active since 2010, Aude has presented her work in more than fifteen solo and group exhibitions, in venues such as Never Apart, l'Arsenal and the Musée d'art contemporain de Montréal, and for events such as MAPP_MTL, Art Souterrain, Under Pressure, Osheaga and C2 Montréal.
From : Aude Guivarc'h (She/Her)
IG: @audemaeva , TW: @audemaeva