Host a Third-Party Fundraiser
Pride Toronto welcomes local community groups, businesses, individuals and others who wish to host fundraising events ("Third-Party Fundraising"), where all or a portion of the proceeds go to our organization. Third-Party Fundraising is an incredibly effective – and fun! – way to support the 2SLGBTQI+ communities of our city and beyond.
How Pride Toronto Can Support Your Fundraiser
Once your Third-Party Fundraiser is approved, Pride Toronto is happy to offer some of our resources to make your initiative successful. Here is a list of what Pride Toronto can and cannot do to support your fundraising activity. 
Pride Toronto can…
Offer advice and resources on how to organize your fundraiser.
Promote your fundraiser on our Facebook and Instagram stories. Addition promotion is available on a case-by-case basis.
Provide permission for Third-Party Fundraisers to be promoted as "In support of Pride Toronto" and use Pride Toronto's official logo. 
Depending on the committed minimum fundraising goal, location, and staff availability, a representative from Pride Toronto may attend an in-person fundraiser.
Send a request to our volunteer list to promote the volunteering opportunity.
List your active Third-Party Fundraiser on our website, and list you as a Fundraiser on our Donor Wall (currently in development)
Pride Toronto cannot…
Issue charitable tax receipts for donations.
Provide the contact information of our newsletter subscribers, members, board members, sponsors, partners, etc.
Fund or reimburse any costs associated with your Third-Party Fundraiser.
Print promotional materials for your fundraising activity.
Guarantee the attendance of staff or volunteers at an in-person fundraising event.
Apply for gaming licenses (e.g. bingos, raffles, liquor, insurance) for a fundraising campaign or event.
Provide media coverage and support.
Solicit individuals or companies for donations or sponsorships on your behalf.
Third-Party Fundraising Guidelines
It's vital for you – the fundraiser – and Pride Toronto to understand our Third-Party Fundraising Guidelines to ensure that the fundraising is done ethically and the funds are appropriately gifted and used for the intended purpose. Please read the document carefully!
Are you planning a Third-Party Fundraiser? We want to hear about it! Please fill out the application form at least fifteen (15) business days before your fundraising activity. Once we receive your application, Pride Toronto will review and respond to your request within five (5) business days. If approved, we will forward you the Letter of Endorsement and any promotional materials you may need!
Do you want to host a Third-Party Fundraiser in support of Pride Toronto but don't know where to begin? We developed this handy-dandy Fundraising Toolkit that will help you plan your fundraiser.
Fundraisers in the Community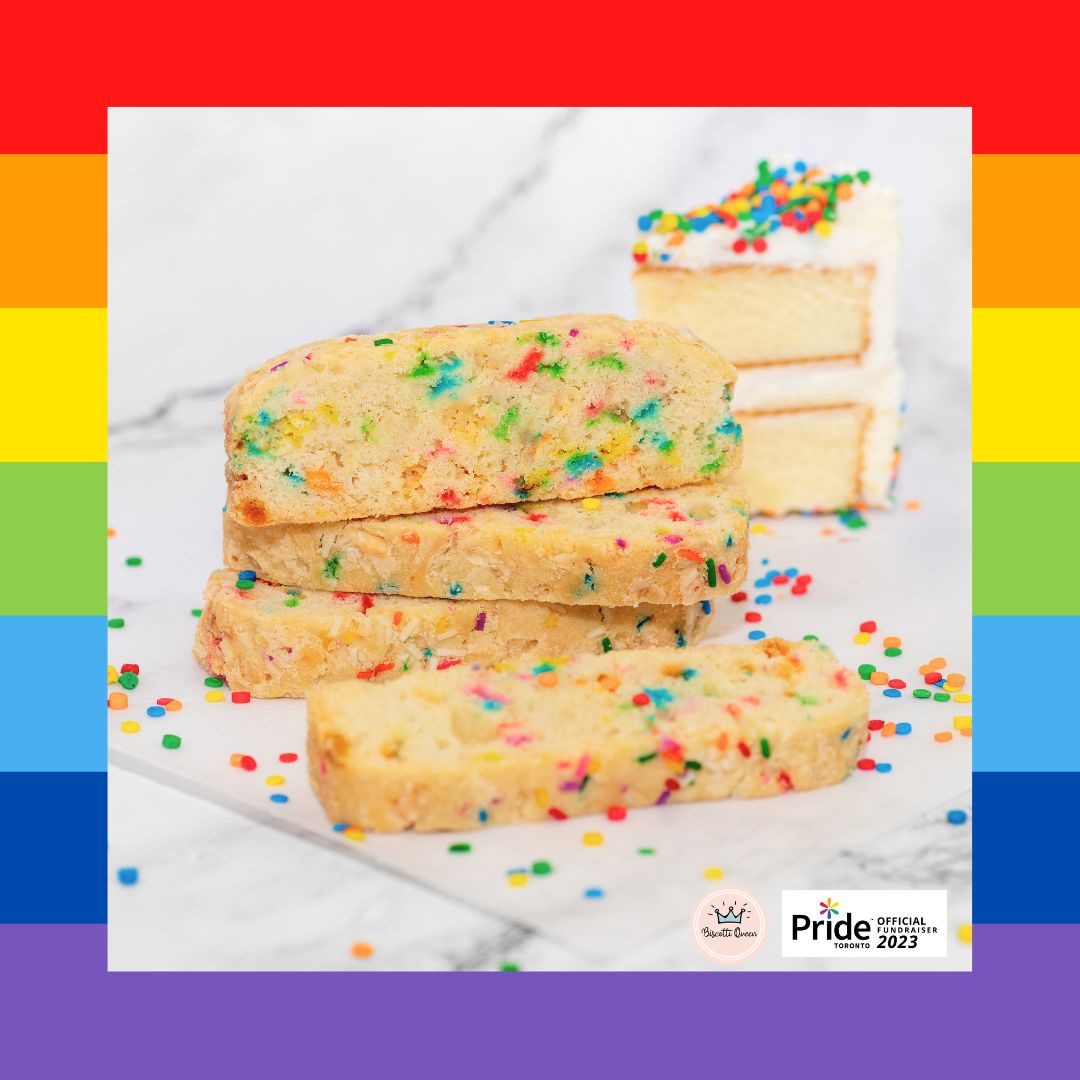 Biscotti Queen is introducing their limited-edition treat, the "Prideful Rainbow Biscookie"! It's a perfect blend of their luscious vanilla batter, loaded with rainbow confetti sprinkles, offering a perfect blend of biscotti crunch and a soft cookie texture. For every Prideful Rainbow Biscookie sold, they're donating a portion of the proceeds to Pride Toronto. Click their picture to order today! ❤️🌈
Get in touch
If you have any questions about hosting a Third-Party Fundraiser, please email our Grant and Fund Development Manager at hannah@pridetoronto.com.