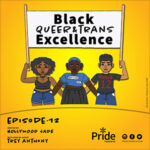 Trey Anthony is a bad-ass Jamaican-British-Canadian, truth-teller, award-winning writer, and wellness expert. She's the girl to call when you want to turn your inner shame into a success! Trey is known as the "Oprah of Canada," the first Black woman in Canada to have her own prime-time series on a major network. Trey has appeared on NBC, ABC, CBS, NPR, Fox, CTV, CBC, City TV, and Global Television. She has been featured in Forbes, Huffington Post, Toronto Star, The Toronto Sun, Global Mail, Essence Magazine, and Madame Noire.

She is a former writer for OWN, Lionsgate, The Comedy Network, The Women's Television Network, and Global Television. She is also a contributing writer for Huffington Post and the Toronto Star, Canada's largest daily newspaper. Her popular new book, Black Girl in Love (with Herself) has been published by Hay House, the largest self-help publisher in North America. Her award-winning play, Da Kink in My Hair, received four NAACP awards including Best New Playwright. Da Kink has broken box office sales records in Canada, England, and the United States. It has grossed millions, been critically acclaimed, and was named one of the top ten plays in Canada's theatrical history.

Trey recently adapted her new play, How Black Mothers Say I Love You, to a film, which was shortlisted at Sundance. Trey's viral TEDxToronto talk "Coming Out of Your Box" has nearly 13,000 views. Trey is currently a Television Development Producer at CTV Television and Bell Media and is one of the highest-ranking Black women TV executives in Canada. Trey is passionate about diversity, inclusion, and of course wellness, and she is a highly sought-after speaker. She has spoken at Harvard University and NYU and been a guest lecturer and speaker at the University of Massachusetts, the University of Waterloo, McMaster University, and Ryerson University. She has delivered numerous keynotes and workshops to corporations and organizations around the world. She's the recipient of an Eve Ensler Vagina Warrior Award, which recognizes the contributions of dynamic women in the arts. She also has received a Walk of Fame Star in Brampton for her contribution to the arts. She is a recipient of the Harry Jerome Award for the Arts and was recently named one of the top 100 Black women in Canada to watch! Her popular touring theatrical wellness show, Black Girl in Love (with Herself), is a sold-out event every year. Trey is the Rockstar of Wellness for women! This pocket-size powerhouse is also a solo mom to her newly adopted son Kai, and in her spare time, she enjoys eating cupcakes and crying while watching This Is Us. For more info or to book Trey for your next keynote, conference, or women's retreat, please go to www.treyanthony.com or follow her on IG @blackgirlinlove.
Subscribe to the podcast! And check us out on IG @pridetoronto for episode updates.
And Our incredible host, Hollywood Jade is on IG at @hollywoodjade
Podcast Artwork Illustration By- Octavius Zion Duff @majesty_draws
Have a question? Email us office@pridetoronto.com
Podcast Transcript is available online at pridetoronto.com/episode12