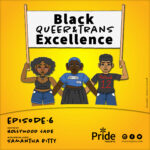 Based in Toronto, Samantha is the host of SEX SESSIONS (SliceTV), SEXY SEXUAL HEALTH TRIVIA, is the founder of Inner Development Project, and represented by the National Speakers Bureau. She has developed and facilitated workshops, seminars, and training locally, and internationally. 
Samantha Bitty is a Sober, Trini, Aries, Sexual health and consent educator, born in Scarborough, On. Check her out on IG @samantha_bitty and visit her website samanthybitty.com
Subscribe to the podcast! And check us out on IG @pridetoronto for episode updates.
And Our incredible host, Hollywood Jade is on IG at @hollywoodjade
Podcast Artwork Illustration By- Octavius Zion Duff @majesty_draws
Podcast Episode Transcription Available online at pridetoronto.com/episode6
Have a question? Email us office@pridetoronto.com