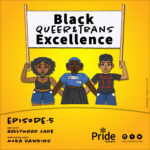 TW: This episode mentions Police violence, Trans violence and physical abuse against Women.
Moka Dawkins, a Black Trans freedom fighter in Toronto, sits down with Hollywood jade to share her journey as a Black trans woman who has had multiple violent encounters with the police and navigating the legal system. Moka is a resilient advocate for the Trans community, currently launching her own non-profit production company to uplift 2SLGBTQ+ artists and activists and stars in the documentary "Surviving the Block".

Subscribe to the podcast! And check us out on IG @pridetoronto for episode updates.
And Our incredible host, Hollywood Jade is on IG at @hollywoodjade
Podcast Artwork Illustration By- Octavius Zion Duff @majesty_draws
Podcast Episode Transcription Available online at pridetoronto.com/episode5
Have a question? Email us office@pridetoronto.com