This year more than ever, spending money with small, local, and independent retailers will have an amazing impact on the community. That's why we partnered with five amazing, local 2SLGBTQ+ owned businesses to bring you our official 2021 Pride merch!
Created and curated by local brands and artists Yohomo, Operation Soap, MUKA designs, Annyugenart, and the Invisible Majority – our official merch includes something for everyone! Shop the links below for all your Pride-inspired swag.
15% of proceeds on all official merch sales will go to our 2021 charities of choice: The ArQuives and Breakaway .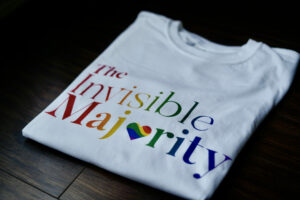 The purpose of The Invisible Majority is to raise awareness around visibility and representation. It's meant to empower the BIPOC and 2SLGBTQ+ community as well as those who live along the margins of society. This project speaks for the ones who exist but continue to not be valued or seen for the beauty that lives, within their existence alone. We sell t-shirts as a way for people to wear an important truth and get the message out into the World. We are here, we are in abundance and now it's time to see us for who we are.
Read More »