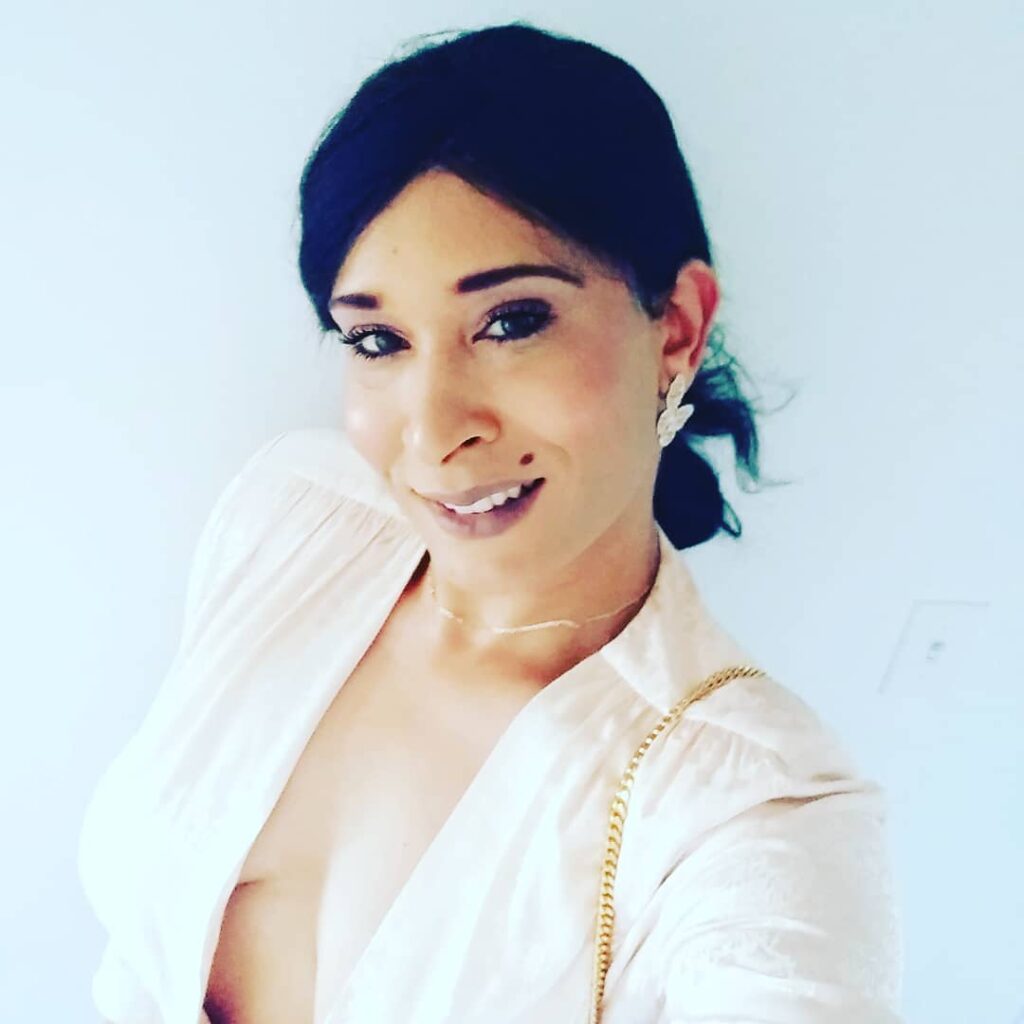 Moka is a Black & Indigenous Trans/2Spirit woman who experienced criminalization due to racial identity profiling, and transphobia by the Toronto Police Services and Ontario's provincial and federal judicial systems back in 2015. After nearly 5 years of incarcerated activism, Moka in her regained freedom continues to confront in advocacy the injustices and lack of civil protective legislation and it's homogeneous effects on racialized gender and sexual differing identities/peoples. With current lgbtq2s+ societal & political issues of violence and murders on the rise, Moka's target focus of educational awareness is furthering knowledge on positive integrated communications with the removal of existing prejudice relations towards black & lgbtq2s+ communities. Moka's accomplishments include 2018 reformative policies within Ontario's provincial correctional system in the implementation of an equity and equality policy on identity rights and access to gender-affirming items for trans/2s peoples. Moka work also landed her a 2020 "Person Of The Year" nomination with Inspired Awards. Currently, Moka is in full-time studies with Centennial College in the Community and Justice Services program. A part-time student with Montreal Greater Grace Bible College, she is employed with Black Women In Motion as a Program Coordinator. Moka is also contracted part-time with Ryerson University as a Research and Development Specialist under Dr. Juile James in the Child and Youth Department. Moka's work resume excels with a Board of Director seat with Pride Toronto and T-Time Tips Productions. Starting her own not-for-profit & podcast, T-Time Tips Productions offers transitional health wellness and lifestyle advice to people undergoing hormonal therapy. T-Time Tips podcast is available exclusively at www.t-timetips.ca. You can also catch more of Moka and some of her life experiences in her real-life and death documentary "Surviving The Block" which depicts the 2015 life and death stab attack and attempted murder violence. Moka survived while she herself was being accused of murder by Toronto's Police Services. Surviving the Block is now available on OUT T.V. Moka is available for panel bookings/ guest lecture presentations and protest speech bookings by email: mokadawkins@gmail.com or online at www.mokadawkins.com
My Pride Story
Spilling the Silent Tea: Trans Pride Ambassador Moka Dawkins on feminist allyship, celebrating survival and the dark side of nudity at Pride
"Being a racialized trans person having to navigate in different neighbourhoods and societies, has been a forever hardship for trans people. Due to the colonial settler perception of trans and two-spirited peoples, it's very hard for us to escape those past oppressions still."

Moka Dawkins
Our 2022 Trans Pride Ambassador Moka Dawkins is a bright activist light, fighting for better treatment of trans people by police and in the prison system across Ontario. You may have heard her harrowing story of assault and imprisonment, or maybe you've caught her popular podcast, T-Time Tips.
When it comes to trans issues within our queer community there's a lot of tea to be spilled – and we're here for it! We sat down with Moka to bring voice to the silent tea of the challenges that trans people face within our queer community, the importance of amplifying racialized, feminist voices, and how nudity at Pride can undermine trans advocacy.
"It's not multiple identities – it's an emotion": on intersectionality in advocacy
Moka Dawkins identifies as a Black, Indigenous, Two-Spirit trans woman. But when asked about the intersectionality of her identities, she has a different take. "I don't feel like I'm a person with different identities," says Dawkins. "I don't form my expression as an identity, it's more of an emotion for me. It's my compassion and heartfelt truth about the current state of the police and the prison system, and how they're infecting and destroying communities."
Dawkins intersectional journey has more to do with her innovative combination of schooling: a Community Justice Services program and a Bible College program. "Those are the two intersectionalities I will bring together to prosper my career and community." Dawkins was raised Christian and is fully aware of the damaging impact that Christian ideologies have had, and continue to have, on the queer community. But when it comes to applying the Bible's teachings of brotherly kindness, charity and love, she sees an opportunity. "To build community, these are the virtues that you must carry," says Dawkins. "The Catholic church has used the word of God in such a violent manner towards so many different communities. People forget the grace of the word, and what stands there for us to build from this type of oppression and destruction which we face together."
"I was able to get the knife from him and swing back": on assault, the justice system and the Justice for Moka Dawkins campaign
In 2015 a horrific incident occurred which changed Dawkin's life – and set the stage for her trans advocacy work. Back then she was a sex worker, and one August evening went to meet a male client. To this day, she's still not sure whether he was experiencing a mental breakdown. Whatever the cause, he grabbed a kitchen knife and viciously stabbed Dawkins in the face and the stomach. "By the grace of God, I was able to get the knife from him and swing back," Dawkins recalls. Although the wounds she inflicted were not life-threatening in and of themselves, he bled out on the scene and passed away. "He could have still been saved if the paramedics and the police weren't downstairs laughing at me because of my identity," Dawkins recalls. "My wig had flown off my head, it was a big drama."
Dawkins was charged and imprisoned for four years. The journey between that 911 call and the start of her incarceration is captured in the documentary Surviving the Block, available on OutTV. As it turns out, Dawkins was not the only woman who had experienced violence at the hands of this man. She later learned that he had an extensive court record of unprovoked stabbing and domestic abuse charges. As a trans sex worker, she faced plenty of discrimination in the court process. "The judge denied me the right to have an expert come in to explain what it's like to be a sex worker, and how violence for us is more heightened than for the average civilian," says Dawkins. "There were a lot of discriminations and transphobic dealings that I had within the justice system. It's all captured on Surviving the Block to spread that awareness of how trans people survive to this day in 2022. And what we have to go through from the general public and the governing bodies."
But her experiences with transphobia didn't end with the prison sentence. Not too long after she got out of prison in 2020, she was subject to anti-Black, transphobic violence from a roommate who weaponized the Toronto Police against her. The community stood behind her via the Justice for Moka Dawkins campaign to raise awareness of transphobic violence, and to provide funds for Moka to secure a safe living space. After hundreds of community members rallied for over 24 hours outside of multiple police stations, she was released.
The campaign came at a time of global mourning for Black lives lost to police brutality and was the deadliest year yet for racialized trans people. "There was a lot of mourning in community, a lot of death was just happening," Dawkins recalls. "It was really hard to wrap all of that around and commence healing at a time when hurt was still being produced."
But amidst the mourning, Dawkins found strength and survival in community. "Not only for the trans community, but for the black community – we are survivors, we cannot forget that," Dawkins reminds us. "We've seen Malcolm X and Martin Luther King go by violence by murder."
"The Justice for Moka Dawkins campaign really tried to be that lane of survival, that reminder we can make it through the worst things in life. We're not here to be silent. We're not here to be quiet. We're here to indulge in all life has to offer as everybody else is able to indulge in life's greatness. That's what it really was for me."
"It's not helping the progression of the community": on undermining trans advocacy
Dawkins speaks passionately about how some queer community members can undermine trans advocacy – and she doesn't mince her words. "I think the gays really taint what the trans community tries to do," Dawkins explains. "They always have their ass out, it's always sexualized content on TV. It makes it very difficult when the trans community tries to speak up about violent situations and circumstances that are happening to us."
Although she feels that strippers should certainly be recognized, queer stripper TV shows can send the wrong message. "When trying to speak to allies and different communities, these are the images that they see of community, instead of people getting along. It's not helping the progression of community. It diminishes the work of advocates like Raven Wings and Marcus Cyrus. These perceptions just diminish the voice of protection that we're trying to get across."
Dawkins points to a lack of respect for women and little understanding of transition biology as key challenges for trans people. "These men have no respect for women, and this catty attitude needs to change," says Dawkins. "These men have large amounts of testosterone and adrenaline. When they come in, they cause violence to us within the community." But gay men aren't the only queer community members that Dawkins wants to address. "In the gay community, even the lesbian community, there's not that much understanding of the actual biological changes, like muscle deterioration, bone density loss and undergoing hormonal treatments. They don't seem like brother or sister relationships, those are not even fostered within the community."
"I felt like that was some silent tea": on feminist allyship within the trans community
It was these issues that inspired her popular podcast, T-Time Tips. Her guests include activists, performing artists and talk show hosts – and they all identify as she/her. "I wanted to spill the tea on the feminist movement within the trans community and our allyship," Dawkins explains. "I felt like that was some silent tea that people weren't paying attention to – how powerful the feminist movement can be when we show allyship within different industries."
If you're expecting community drama, you won't find it here. Topics focus on health, wellness and lifestyle advice, and showcase Black, female excellence across Canada. Although one day she hopes to have a Wendy Williams-level talk show, for now its all about community. "It's trying to connect the femininity, and all that my community strives in, which people don't realize. It's bringing that flower to blossom."
If the community response is any indication, the podcast is definitely hitting the right note. In fact, when she had put the podcast on a temporary pause, she was flooded with messages from community members telling her that they wanted more. Dawkins is one busy lady, between her academic studies, working as a Program Coordinator with Black Women in Motion, and sitting on the Boards of Pride Toronto and T-Time Tips Productions. But she puts out as much content as possible and tries not to let her loyal audience down. Every time a new podcast episode or a fresh tip comes out, she gets amazing feedback. And thanks to some innovative partnerships, her audience is growing. "There's been a lot of engagements within the public spaces that I have been promoting as safe places for trans people to get assistance with transitioning," says Dawkins. "8-80 Cities granted T-Time Tips the sponsorship to really find the safe places within community, and to promote health awareness for our trans men and women."
"If I could rebuild a moment, it would be that moment": on her first Pride
How many people can say that their first Pride experience involved performing on stage? Moka Dawkins can! Born and raised in Montreal, Dawkins attended her first Pride in Toronto in 2008. Back then she was a performing artist, frequently participating in dancehall King and Queen competitions. When she came in second place and had to perform, she recalls the feeling of being up on the Blockobana stage. "Once the music started playing, I could not stop dancing! The DJ just overtook everything for me. The crowd was absolutely amazing."
When she got offstage, the community surrounded her with hugs and photos opps. But her dancing wasn't done for the night. She and the other dancers joined the crowd, whining down to hits by Tony Matterhorn and Mr. Vegas. "If I could rebuild a moment, it would be that moment," says Dawkins. "Everybody was jumping into splits, doing head tops, or just dashing their fingers and dutty whining. It's nice when the performer can become one with the audience in that sense, you know? It was a spectacular time."
"We also need community to take a step": on environmental sustainability and anti-racism
This year, our focus at Pride Toronto is on environmental sustainability and anti-racism. When it comes to how well the queer community has taken on environmental issues, Dawkins feels that we are still in the awareness phase. She applauds Pride Toronto for using 100% green vehicles at this year's festival – but there is still work ahead of us. "As Pride Toronto takes the first step, we also need community to take a step, and to share the awareness to build that safer, greener environment that we all crave for," says Dawkins. "We want to hear about waters getting cleaned up, and about aquatic life surviving and thriving."
Similarly, issues of anti-racism also require the full community to step up and advocate. "Pride Toronto used to have an all-white Board," Dawkins reminds us. "Today, we have a fully diverse, racialized and gendered Board. The membership is hearing us, electing us as Board members, and putting us in positions of power to make these changes and spread awareness." Where issues of intergenerational trauma come up frequently in Black and Indigenous communities, Dawkins turns that narrative on its head by educating about intergenerational ignorance and racism in white communities. Dawkins calls upon white members of the queer community to speak out about anti-racism, and all of us to continue educating those who lack knowledge about the experiences of racialized people. "If we want to claim that we are diversified, unified, and equalized, we must help one another in eliminating racist traits, thought patterns and language."
"I am a survivor": on what keeps her fighting and celebrating
When asked what keeps her trans advocacy fire lit, she doesn't hesitate. "What keeps me wanting to fight is the acts within the LGBTQ2S+ community itself, with how gays treat trans individuals," states Dawkins. Her biggest concern? Nudity at Pride. "It's hard for people to come out as trans. If you want your family to partake in your community and who you are, there should never be a problem with bringing your little nieces or nephews, and having them exposed to grown male and female genitalia. Some of the dangers that the trans community faces are because of those behaviours in the gay communities. That's very unfair for the prospering of this community as a whole. Period."
But along with advocacy, come celebration. "I am a survivor. I survived danger from the general public and systemic violence and discrimination. When we come together to chant and scream, we come to chant and scream for survival experiences like mine. We want the right to live, we want the right to prosper, we want the right to be heard and seen as equal. Those are the reasons why I still go out and celebrate."
Social Media Channels
Relevant Links
---
My Pride Story written by: Anna-Liza Badaloo (she/her) is a writer and consultant working at the intersection of health, environment and social justice.