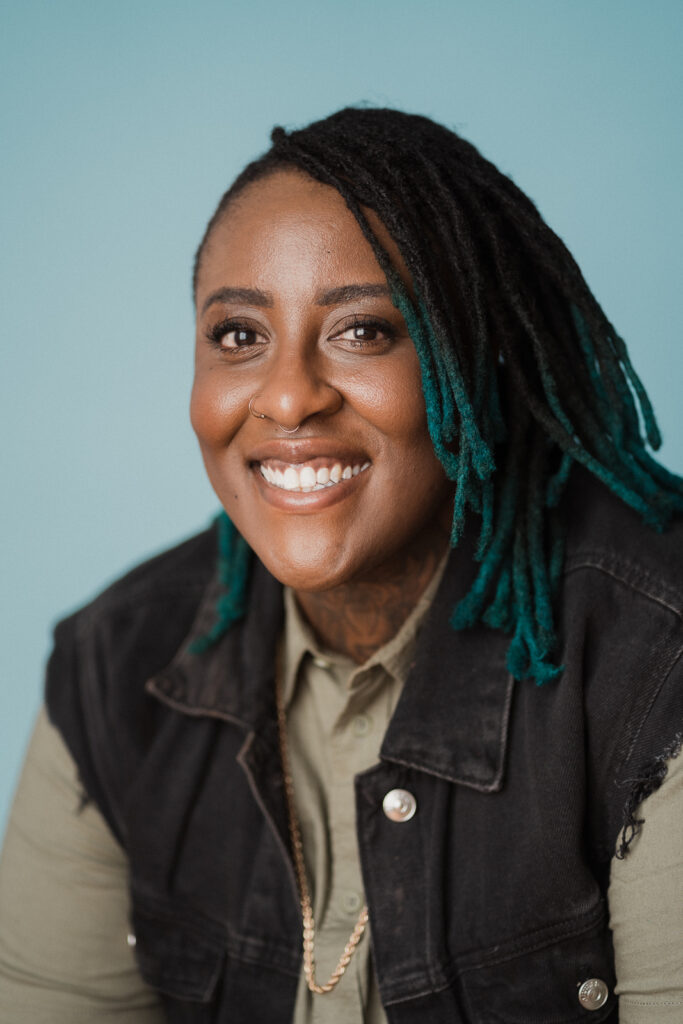 Marisa is an event producer focused on creating spaces for Queer BIPOC folx to feel safe and accepted. This passion for curating spaces came due to them noticing a lack of POC representation in queer parties. This inspired Marisa to create the party collective "STRAPPED" in August 2019. The first party theme was Leather and Lingerie and with only 2 weeks to plan the party was an overwhelming success. Marisa continued to generate themes that encouraged guests to come out and dress up! A portion of the funds for the events would go back to community members looking for funds to support their gender affirmation-related surgeries. When the pandemic hit Marisa quickly pivoted to creating events online to continue to engage and connect with the community. Outside of creating sold-out events, Marisa makes sure their work also goes back to supporting the community. Through event proceeds, they've raised countless funds to support gender affirmation surgeries for queer and trans folx in the community. Their activism work includes co-creating an online strip club that raised funds for Maggies Black Sex Workers impacted by the pandemic. They've supported the low-barrier vaccine clinics with Maggies Toronto by assisting in booking DJs to promote public health and safety. Marisa cares deeply about making spaces accessible to the community. They continuously find ways to offer free tickets and programming to BIPOC community members low on funds. If you want to make something happen, Marisa is the person to do it!
My Pride Story
Taking up Space: BIPOC Pride Ambassador Marisa Grant on the importance of queer, BIPOC spaces, the illusion of safety, and what white allies need to know
"I tried to make the space that I would have enjoyed when I was coming out, that would have validated my queerness, and made me feel safe and comfortable."

Marisa Rosa Grant
If you want to make a queer, BIPOC event happen, our BIPOC Pride Ambassador Marisa Grant is the person to do it! Grant has made their mark in Toronto by organizing show-stopping events for queer, racialized folks, like their popular Strapped parties. But it's not all about the glitz and glamour – it's also about creating BIPOC-safe spaces within our community.
We sat down with Grant to learn why queer BIPOC folks need their own spaces, the challenges they have faced in planning BIPOC-centred events, and how white allies can better support the queer, BIPOC community.
"People don't understand why we need spaces for us and by us": on the importance of queer, BIPOC spaces
There's no lack of queer parties in Toronto. But when those spaces are predominantly white, what happens to BIPOC members of the community? "In discovering or uncovering your queerness (especially as BIPOC folks), we need to see ourselves too, in order to feel more comfortable and explore our identity," Grant explains. "When we do try to take up space, we get a lot of negative feedback."
According to Grant the 'Oppression Olympics' is alive and well, with much debate over which queer community members are most oppressed. But as Grant points out, no one understands BIPOC oppression like BIPOC folks. "We need those spaces in order to grow, develop community and find people that are similar," says Grant. "That's why these spaces are so important – we need to find people that we can relate to."
BIPOC folks (especially non-binary folks) can often feel tokenized and othered at queer, white events. And it doesn't make for a relaxing night out. "I can't even count how many times I've been at a party or a club, in queer spaces that were predominantly white, and someone approaches me and says that they love my hair," recalls Grant. "Please, just let me exist!" BIPOC folks are often seen as 'exotic' or 'different' and can feel preyed upon in white spaces.
Its not only white attendees that can make BIPOC folks feel unsafe and othered – it's the entire event ecosystem. "It's very exhausting to go into these spaces and try and have a good time," says Grant. "I work all week, I'm a parent. I like to have a Friday night out. But when I enter some of these spaces that are predominantly white, it's a white venue, all the staff are white, the curators are also white. They might sprinkle in a performer of colour to say they did something, but it's very uncomfortable to be in these spaces."
As a result of such experiences, some BIPOC community members are hesitant to go to queer spaces and connect with community. Grant recalls many occasions in which well-intentioned white people noticed they were the only person of colour in a space and tried to make them feel welcome. "I find it a very Canadian thing to be extra friendly," says Grant. "They want to let you know, 'Hey, I see that you're racialized. I'm woke, so I get you.' I get a lot of 'I see you'."
But when asked what they think white people are actually seeing, they have a different take. "At the height of the pandemic, they saw and felt guilt. They were in a place of wanting to help," says Grant. "But now it's fizzled out. They are back to seeing us as 'others', and just going about their daily lives. They don't really care now how much we still struggle, how many obstacles we continue to face, and how much privilege they carry that we can never ever get to."
Although Toronto is safer for queer folks than many other places in the world, racialized folks that are visibly queer and out still get attacked. And Grant feels that white community members don't appreciate the full danger. "They just don't seem to be doing enough to protect us. And that's why it's so important to have these spaces for us."
"There were a lot of parties for gay men": on the search for queer, BIPOC spaces
Born and raised in Brampton, Ontario, Grant was used to being around brown and black folks, and immigrant families. When they moved to St. Catherines in their 20s (peak queerness, as they put it), they were in for a shock. With few queer people of colour in the community, and no longer in university, they felt incredibly alone. Grant had their son at 22 years old and was away from the party scene for a few years. During this time, they realized that they identified as a lesbian.
When he was old enough for his grandparents to do weekend childcare, Grant headed to Toronto in search of queer party spaces. "There were a lot of parties for gay men," Grant recalls. "Those spaces were great, because it was the first time that I had seen queer, Black men. And then there were lesbian spaces. But they were not necessarily interested in understanding non-binary identities. You couldn't make eye contact with a femme because maybe that was someone's girlfriend, and you could end up in a fight later. These were not necessarily the safe spaces that I saw myself in, or what I needed when I was coming out."
Soon, they set up an Instagram account to share all the queer parties they heard about. "I was talking with different event curators and promoting their events so that other people like me could see what was going on in the city and where they could go."
"I tried to make the space that I would have enjoyed when I was coming out": on creating queer, BIPOC spaces
After experiencing the white gaze in so many queer spaces, Grant was inspired to create events specifically for Toronto's queer, BIPOC community. "I made it a point to be very visible," Grant recalls. "I wanted to create these events, but I wanted the people who looked like me, loved like me and people of colour to really come out." They started by simply creating an Instagram page, DM-ing their peeps of colour an eggplant emoji and letting them know that a party was coming. They didn't have an event team like they do now, but Grant managed to book a DJ lineup and door staff that was 100% queer, Black women. The venue was owned by a white man, and Grant asked if he had any staff of colour that could work the bar so that BIPOC folks would feel welcome in the space. "I tried to make the space that I would have enjoyed when I was coming out, that would have validated my queerness, and made me feel safe and comfortable."
Fast forward to August 2019 – Grant's first Strapped party for BIPOC folks. When she saw predominantly black and brown folks on the dance floor, it was a proud moment that inspired them to go further. Based on community feedback, they planned a theme for every party. "The first party that we threw was leather and lingerie. I got the idea of having these themes from the ballroom community, which is also very Black," says Grant. "Especially as Caribbean folks, we love to dress up. In general, queer people love a theme! We love any opportunity to just be our most extravagant selves. I wanted to continue creating these spaces where people are feeling sexy and accepted." Attendees of the first party also loved the music, a saucy mix of house and dancehall.
But creating queer, BIPOC-friendly events wasn't that simple. They had difficulty securing the same venue for their regular monthly Strapped parties and had to move around. Soon, Grant was getting feedback from BIPOC attendees about the impact of frequent venue switching. Each venue had their crowd of regulars, who were usually not queer, BIPOC folks. After holding a couple parties on College St. in downtown Toronto, they learned some important lessons. "It started to bring in a lot of white queers. And then the whole idea of the party kind of switched," says Grant. "There were people attending the party who didn't know what the space was, they just entered off the street. At the time I was thinking, 'OK. I need money to continue to grow this party, and help it evolve. But I don't want to be calling this a BIPOC space when it's overflowing with people who aren't.'"
Grant was also getting pushback from queer, white people who didn't understand why they couldn't attend. Grant came up with an innovative solution. They asked white ticket buyers to put additional funds towards a ticket for a person of colour. Although that was short-lived due to the pandemic, Grant has now reinstituted this policy. Where before it was a suggestion, now it's more direct. "We've changed the wording to say, if you're a white ally in this space, you need to understand that this is a safe space for people of colour. And we would like that, in addition to your ticket purchase, you also pay for a ticket for a person of colour." This stronger policy means that any person of colour can now attend Strapped events, even if they don't have the funds. Now, when white people ask them whether these spaces are for them, Grant doesn't say no. They advise that they are welcome to attend if they buy a BIPOC ticket or attend with BIPOC folks.
The result? "It's wonderful! We always have a photographer at our events, and we can see the difference," exclaims Grant. "I've had so many heart-to-heart moments after parties, where people are telling me how great and safe they feel, and how happy they are that a space like this exists."
"For the first time I saw people wining and grinding with other people of the same sex": on their first Pride
Having grown up in church, Grant had never even been to a concert. When they attended World Pride in Toronto in 2014, their eyes were opened. "There was just something about that year. I had a queer awakening. I was living on my own for the first time," recalls Grant. "I went completely by myself with an open heart and mind. I remember seeing all the people that I knew from Instagram."
They revelled in the joy, love and beautiful people that surrounded them. "It was like nothing I had ever seen before – gay everywhere!" Grants exclaims. "I connected with people that I knew from online. It was a beautiful day of meeting people and just sharing the joy of being queer."
But one Pride event made a big impression on them. "I went to Blockorama and that was it! That was where I saw all the people of colour, and heard the music that I loved, like dancehall," Grant recalls. "For the first time I saw people wining and grinding with other people of the same sex. I couldn't have asked for a better Pride experience. I was surrounded with so much love, joy and among people who loved like me."
"It's something we don't talk about enough": on environmental sustainability in the queer community
"Pride involves a lot of gas, printouts, confetti and glitter. Environmental sustainability is something we just don't talk about enough in the community," says Grant. They feel that Pride is moving in a beautiful direction by putting the environment front and centre. "I'm proud and excited to see what Pride Toronto has planned to make it more sustainable and do less damage to the environment – especially while we're still celebrating."
"It's time that they start doing the work": on anti-racism in the queer community
While Grant feels that the community has done a lot of work in teaching white people about anti-Black racism, they want to see while allies step up and speak out. "I strongly believe in self-care and making sure that we are not exhausting ourselves by continuously teaching, because Google is easy and free. You want to learn how not to be racist? Google it!" suggests Grant. "It's time that they start doing the work. And we get some time to relax and be amongst ourselves. I feel like it's been years and years of teaching. That's exhausting. Now, I just want to celebrate."
That being said, Grant is excited about the learning and networking opportunities when Global Black Pride hits Toronto this July. With two days of human rights conferences focused on the queer, Black experience, Grant looks forward to hearing directly from people with lived experience, and professionals who are deeply engaged in this work. "It's going to be a beautiful way of exploring what the community has to offer," says Grant. "There will be a vendor market so that people can buy from Black, queer folks, and access Black healthcare providers."
Grant encourages white allies to attend and share learnings and resources with their white communities. "A lot of people who are white and are creating spaces, decide for us what our narrative is instead of listening to it," explains Grant. "Global Black Pride will be a great way to get that firsthand experience and knowledge."
"There's never going to stop being a BIPOC community": what keeps Grant advocating and celebrating
Last October Grant felt like having a bonfire. 50 people joined them on Cherry Beach to frolic by the fire and scream out their frustrations across the water. "Those are the moments that inspire me and light a fire in me, just like we lit the bonfire," shares Grant. "They continue to warm my heart and bring me joy, life and motivation." By using party-generated revenue to fund such free events, Grant is creating new spaces and making them more accessible to queer, BIPOC folks with limited funds.
Looking back, Grant is proud of their journey. They went from holding parties with no idea where they would go or who would attend, to building a thriving community. "As long as I'm able, I'm going to keep making these spaces, and even teach other BIPOC folks how to create these spaces," says Grant. "There's such a need, want and desire for these spaces to exist. There is so much healing in just being amongst each other."
Social Media and Website Links
@marisadaddy (Instagram and Twitter)
@strapped.to (Events)
www.marisarosagrant.com
www.strapped.to
---
My Pride Story written by: Anna-Liza Badaloo (she/her) is a writer and consultant working at the intersection of health, environment and social justice.