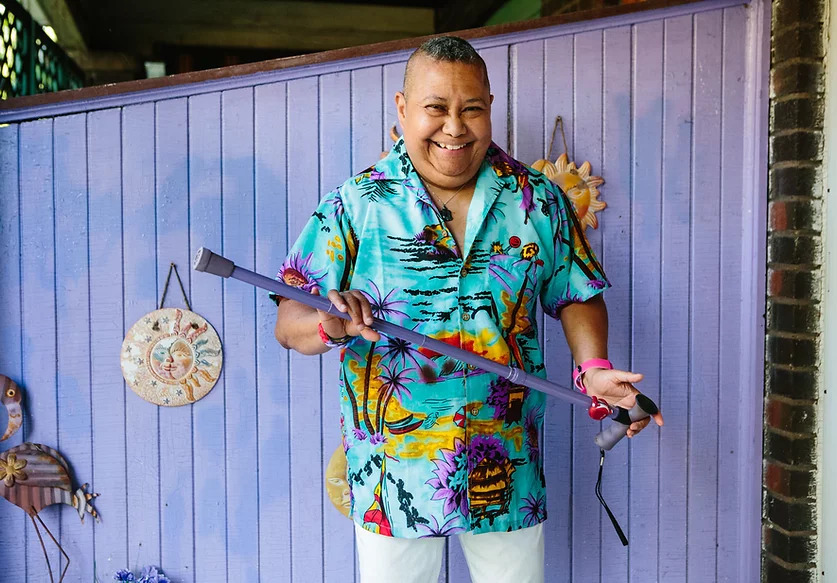 I am a world majority, brown, trini, Carib, indo, chinese, callaloo, queer, DYKE, differently-abled community activist, Elder.
I am a 2SLGBTQI+awareness consultant and workshop facilitator. In my work I focus on the issues affecting 2SLGBTQI+ seniors / older adults and the barriers we are forced to overcome on a daily basis. I share my lived experiences of queerness, age, race, ability and sexuality with openness and vulnerability. I live my life from an anti-oppression, anti-racism, anti-colonial, intergenerational and intersectional perspective.
I have presented in Ontario, Nova Scotia, Belize and St.Lucia…as a queer DYKE senior. My work has been highlighted in the anthologies Marvellous Grounds and Any Other Way.
I live in Toronto, Canada and for fun I am a story teller, actor and connector. I love dim sum, doubles, dancing, soca and a trini 'lime' anytime!
Let me add colour to your lives!
I am FIERCE! TENACIOUS! PERSISTENT!
My Pride Story
"We weren't just there to dance and gyrate on the street": Senior Dyke Ambassador leZlie lee kam on decades of dyke protest, racialized dyke challenges and how an intergenerational approach benefits queer youth and queer seniors
"When you are being oppressed, isn't it your responsibility to use your privilege and power not to do that to somebody else?"

leZlie lee kam
With 46 years of queer activism under her belt, it's no wonder that leZlie lee kam holds not one, but two honoured positions this year: she is the both the Dyke Ambassador and one of two Senior Ambassadors. Trinidadian-born Senior Dyke Ambassador leZlie lee kam has seen the dyke movement change a great deal over the years. Although there is increasing acceptance of the dyke identity, as a racialized senior, lee kam has a lot to say about how the layers of discrimination can really add up.
We sat down with lee kam to reflect upon the history and current state of dyke activism, special challenges for racialized dykes, and how she is using her voice to advocate for the shared struggles of queer youth and seniors.
"I don't live up to what a dyke is supposed to look like": on limiting lesbian stereotypes
From the very start of her queer journey, lee kam has refused to be categorized. She came out in 1976 while volunteering with the Lesbian Organization of Toronto (LOOT). Formed in 1976 and disbanded in 1980, LOOT was Toronto's first openly lesbian feminist group. But when it came to her identity, she found the options far too constraining. "I was told that I had three choices. I could be butch, femme or a separatist. This was 1976 – the only separatists I knew were from Quebec!" lee kam exclaims. Back then, 'separatist' was the term for women who made a deliberate decision to separate themselves from men in every way, shape and form. "The irony, was that they looked more like men, than the men! Here I am, this little brown person from Trinidad, just coming out, having no clue what any of this means."
Over 46 years later, lee kam still faces challenges in terms of how she chooses to identify and present herself. And its not only the white lesbian community. "Within my community of lesbians of colour, I'm being challenged all the time because I identify as a dyke for political reasons. Not because I'm butch, because I don't identify as butch. I don't live up to what a dyke is supposed to look like, in their minds," lee kam explains. "In winter, I wear plaid. But in summer, I'm tropical. I get told, 'Why are you wearing that? That's not butch.' Well, why do you think you're femme?"
"There was a lot of exoticism and tokenism": on decades of Pride protest
Lee kam's extensive advocacy work has focused on centering the experiences of racialized lesbians and queer folks. And she is adamant about not being labelled as a 'visible minority'. She identifies as a world majority person. "That's a term that was coined by the federal government back in the 1980s, when multiculturalism came in. Suddenly, all of us people of colour started saying, 'We are a visible minority!'. Well, we are not minorities," lee kam notes. "In 1991, the world census said that the majority of people in the world were people of colour. You can imagine what it is now. We're taking over!"
As her decades of marching in Toronto Pride parades demonstrates, racialized lesbians have not always been welcome. In 1990, Lee kam and 24 collaborators started a group called Lesbians of Colour, which became World Majority Lesbians. In 1991 they placed themselves in the Toronto Pride parade – the first time that queer people of colour had a visible presence. Back then, the Pride parade had fewer restrictions. White community groups could simply show up and register, and gain funding. Unfortunately, it wasn't the same for groups of colour.
Although Pride Toronto refused their funding request, they proudly marched. But that kind of visibility hits a little different for racialized folks. "Because it was the first time and many of us were not out, we had to hide our faces. In these cultures of colour, heaven forbid that a woman would bring such shame and dishonour to her family," lee kam recalls. "There were all these layers of oppression and intersectionality, which wasn't even a word back then. But that's what we were dealing with. We also had to think about what kind of risk we were taking, putting ourselves in such a public forum, and at what cost."
Although there was no violence at that event, there was indeed a cost. "There was a lot of exoticism and tokenism. All of a sudden, here are all these lovely young women of colour prancing down the street. We had our music from the different parts of the world that we came from. But there was no understanding from the white lesbians as to why this was not their space," lee kam recalls. "Every time we were in the parade, we were protesting. We weren't just there to dance and gyrate on the street."
After that groundbreaking parade appearance in 1991, lee kam was approached by Anthony Mohamed, a fellow queer Trini. Anthony was the first to start a group for young, queer people of colour at the 519 in the 1980s. When he proposed that queer men and women of colour come together to form a soca jump up band, the Proud and Visible Coalition was born in 1992. "We made a concerted effort to reach out to all the queer groups of colour across Toronto and Canada. We had people come in from Vancouver, the Prairies, Ottawa, and the States."
They couldn't afford a big truck. But when they rented a pickup van and went to Pride Toronto for funds, they were once again denied. They went ahead, with some big names and interactive activities. "Back then it was always older, gay, white men. But again, we were exoticized in the parade. Artists and creators (including Nik Red of Blockorama and Blackness Yes!, and South Asian author Shyam Selvadurai) painted giant triangles with different images. When I look at who was there then, and where they have ended up now, it's great!"
But as it turned out, it was the women who did all the organizing and planning. "We ditched the men in 1993 and became World Majority Lesbians. We had a presence in every Pride parade from 1993 to 1998. That's why it's interesting that I now have this position in the Dyke March. When we tried to go into the Dyke March, we were not welcome."
In 1999, the group had become Queer Womyn Colouring the Century. For the first time, dykes, lesbians and trans women of colour had a big truck, just like the white boys. As it turned out, this truck played a crucial role in their advocacy. That year, the Toronto Transit Commission (TTC) had put out an ad to stop crime on the TTC. The problem? The ad prominently featured two brown men. "Us folks of colour, straight and queer, started this protest. How could you be naming men of colour as the people perpetrating crimes? We put two big signs on the side of our truck. One said, 'Stop police racism. End the criminalization of peoples of colour,' and another said, 'Rage, rant and resist.'"
Shortly after they put up the sign, the requests to remove the sign came flooding in. "Pride asked us to take the sign down. Two white cops in uniforms said, 'Take the sign down'. And then two white women in pantsuits, undercover police, asked us to take the sign down. And they had their hands on their guns." They had rented the truck and driver from the same company that the Toronto Police hired to tow illegally parked cars in the city. When the police advised their hired driver that the company had a contract with the police, so they had to take the sign down, the driver replied, "I can't do anything! These lesbians rented me and the truck!" In those pre-cellphone days, the group called upon their community and the media to show up with cameras. Knowing they would be under intense scrutiny, no police violence took place that day.
"White, queer folks are doing the same thing that they're experiencing in the straight world": on the lack of meaningful support from queer, white communities
Since 2015, lee kam has been marching with Women's Health in Women's Hands at the Dyke March. "Women's Health decided to create a welcoming space. On the Saturday of the Dyke March, they have a big brunch. At the march, they have a truck, a DJ and a large contingent of mainly women of colour. The Alliance for South Asian AIDS Prevention (ASAAP) and Black Coalition for AIDS Prevention (BlackCAP) are part of it too. Now, the Women's Health contingent is so popular that other women want to join," Lee kam explains. "But why? Because it's the best music. Not to support what it represents."
For lee kam, this is symbolic of the often shallow support from queer, white communities. "White, queer folks are doing the same thing that they're experiencing in the straight world. They're bringing it right back in. This is the part that's so baffling to me," says lee kam. "When you are being oppressed, isn't it your responsibility to use your privilege and power not to do that to somebody else? They want to get near to us, because of the music, dancing and exoticism. Why isn't that interest there in terms of supporting what we're doing, and breaking down those barriers? Why aren't you there outside of the Dyke March, when you're enjoying our soca, reggae, or Bhangra music?"
When asked what challenges senior dykes face, lee kam is quick to point out the impact of race. "I'm a senior dyke. But the senior dyke across the street is not facing the same challenges as I am, because she's white. She has money," lee kam explains. "When older, white lesbians tell me that I have no idea how hard it is, I'm thinking, 'I went through the same things that you went through – but with the added layers of the colour of my skin and my Trini accent.' A lot of white, queer women do not have that analysis."
"I didn't want another young woman who looked like me or who sounded like me, not to see herself": on working with queer youth
Although lee kam is best known for her queer, senior advocacy, supporting queer youth is a cause close to her heart. In fact, she often connects queer youth and seniors in intergenerational work, such as working with The Youth/Elders Project at Buddies in Bad Times Theatre.
But her inspiration for working with youth goes back to her earliest queer advocacy experiences. In the late 1970s, the Lesbian Organization of Toronto (LOOT) was housed on Jarvis Street. Of the many queer places in downtown Toronto's history, it's the only original building that's still standing. When she first went there at the tender age of 22, she didn't see anyone who looked like her. What she did see, was a supportive, queer community with a drop-in, a peer counselling line and a buzzing coffee house, visited by the likes of the Parachute Club's Lorraine Segato. Intrigued, this was the start of lee kam's decades of queer activism. "I decided I would get involved. I joined LOOT and started working on the phone lines. I didn't want another young woman who looked like me or who sounded like me, not to see herself."
One night on the phones, she spoke to two, 16-year-old, queer, Caribbean women. Lee kam's Trini accent put them at ease, and they came down to the house. But back then, this simple act of support was illegal. Men were only recognized as queer at age 19, and women at age 21. This law had serious consequences for organizations like LOOT, who were trying to support queer youth. "The police were constantly trying to raid the house because we were described as pedophiles. If anybody was underage and we knew the police were coming, we had to hide them in the basement. It was important that anybody who was younger wouldn't have to struggle the way I had to struggle. And that's continued in how I operate in the world."
In 2016, she heard about The Youth/Elders Project at Buddies. When she showed up to audition, she found about 35 queer seniors and youth. But she was the only queer senior of colour. She continues to work closely with several youth in the project, and they have developed lively, supportive friendships.
Now, she is focused on getting queer youth to engage in civic advocacy. "The queer youth that I'm working with are more on the artistic side. They're engaged in theatre and art, but I'm trying to connect them to political engagement," lee kam explains. "If you want your life to be better, you have to do something about making policy change. Speaking to your City Councillor, MP or MPP is the type of civic engagement that is necessary." Along with the importance of voting, these are the kinds of issues she discusses with the youth at Buddies' monthly In Conversation sessions.
"If you are lucky, you too will be a queer senior": on similar health equity challenges for queer youth and queer seniors
When lee kam encourages youth to get more involved politically, it's not only for youth-related issues. As she often points out to queer youth, they too will become queer seniors. How do they want to be treated?
In working with both queer seniors and youth, lee kam has discovered that although they are at different ends of the age spectrum, the issues they face are remarkably similar. "There's a parallel between some of the challenges that queer youth and queer seniors are facing. Housing, healthcare, how we are still being treated in terms of homophobia, biphobia and transphobia. But we have to work together and support each other."
Sitting on a City of Toronto Working Group, lee kam advocates for better treatment for queer seniors in long-term care homes. She was involved in developing a training toolkit to improve the lives of queer seniors in the City's 10 long-term care homes. When she found out that the toolkit had not been implemented, she was furious. And then she learned of two troubling incidents that happened at one of the City's homes. Two queer seniors were experiencing homophobic insults, neglect and abuse, because of the religious beliefs of some of the Personal Support Workers (PSWs). "If we know that these incidents are happening in one of the homes, it's happening in all of the homes," notes lee kam.
Galvanized into action, lee kam went to the Toronto City Councilor responsible for seniors' issues, and MPP Jill Andrew (the first Black, openly lesbian MPP in Canada). Andrew immediately introduced a motion to Parliament. "I want the toolkit to be implemented not only in all the City's long-term care homes, but all the long-term care homes in Ontario," lee kam notes. "That's why civic engagement is so important." Just as this went to press, we learned that the Leading & Learning With Pride – A Revitalized Tool Kit on Supporting 2SLGBTQI+ Seniors has now been released.
As far as lee kam is concerned, staff at all health care facilities, from walk-in clinics to rehab hospitals to long-term care homes, all need queer training. This lesson really hit home when lee kam found herself as a patient at a rehab hospital. The twist? She used to volunteer on that very hospital's LGBTQ Working Group. "When I volunteered at the rehab hospital, they told me that all this training was taking place. And then I ended up in the facility as a patient – and I was misgendered."
But that wasn't the only troubling situation that she encountered. "I met two young people under the age of 25, who were hiding. One was gender fluid, one was gender non-binary. And then there are those going back into the closet at age 55 plus."
She roomed with a 21-year-old queer youth who had Cerebral Palsy. When COVID hit, they started the Facebook group, Disabled, Queer and Fabulous, which now boasts over 600 members. But all their public advocacy didn't reduce their own barriers at the rehab hospital. "They were confined to a bed, and couldn't move unless they had help," lee kam explains. "They told me, 'I'm an activist out in the world. But when I got here, I was so afraid. I'm away from home and my family. And I need these people to take care of me. So, I had to shut up.'"
Whether youth or senior, the same risks apply. "When you go into a health care facility of any kind, you're at your most vulnerable. You need help, and then all this stuff starts playing out with homophobia and lesbophobia. We're afraid when we are so vulnerable. Who is going to take care of us? It's a huge decision to make, to shut up and hide to get good care. It breaks my heart to see this happening with young folks and seniors."
Another commonality is sharing living space with those who you don't know. "All my young queer friends, except one, have fled family violence and come to Toronto to be their true selves and find some measure of safety. They're working at least two or three jobs, and can't afford to live on their own. They may end up sharing housing with people they don't know," notes lee kam. "If as a senior you end up in a long-term care home, it's basically the same thing. You end up with people you don't know, you're vulnerable."
Now, Pride Toronto is learning how to work with, support and celebrate 2S, queer and trans seniors. Lee kam was recently involved in organizing a joint Pride Toronto-Rekai event to celebrate queer seniors. Rekai is North America's only queer-inclusive long-term care home, with 25 beds designated for queer seniors. It was Pride's only 2SLGBTQI+ seniors' event and it was a huge success. When she organized a similar event in 2019 and got queer youth involved, everyone benefitted. "I saw such joy on the faces of the seniors. So many queer youth came up to afterwards to say, 'I had no idea what a long term care home was! I'm getting to meet queer seniors. It's really opened my eyes about how you may have to live as you get older.'"
For lee kam, this is music to her ears. "To have the youth understand and recognize that this will be them one day, is invaluable. How can they make it better for themselves? I'm helping them pave the way."
"How many were queer seniors who died from isolation, loneliness and suicide?": on issues facing queer seniors during the pandemic
But, as we have seen during the pandemic, there are some issues that specifically affect queer seniors. When in-person programs for queer seniors came to an abrupt halt in 2020, the Ontario Digital Literacy Access Network was born to bridge the digital divide for queer seniors. Sitting on the Board, lee kam stresses that unlike straight seniors, many queer seniors have lost the support of their biological families. Thus, programs where they can find community and gain support from their peers is particularly important for mental health.
This lack of family support also plays out in the health care system. In her work with the Toronto Senior Pride Network, she is advocating to have chosen family recognized as essential caregivers in all health facilities. "When COVID happened and all the long-term care homes were shut down, the most isolated people were queer seniors, because we had nobody to come and visit us. Straight seniors could still have their families come in, but we had nobody," lee kam recalls. "When they talk about the almost 4,000 seniors that died across the province, how many were queer seniors who died from isolation, loneliness and suicide? That's not talked about. That's why it's so important for me to be doing this work."
"If you don't have an actual protest as part of the Pride Parade, what's the point?": on her first Pride and returning to the grassroots spirit of protest
Lee kam attended her first Pride in Toronto in 1977. "It was a picnic at Queen's Park. Back then, everything was really small. It was fun, and we were protesting," she recalls.
It is this grassroots spirit that lee kam wants to see more of at Pride. "We have to figure out a way to be grassroots in our organizing and our way of thinking. Pride is striving to incorporate the element of protest," notes Lee kam. She is delighted that this year, the big trucks are gone. But that's not the only grassroots element that she wants to see brought back to Pride. "It's very different when you have community groups in the parade. But if you don't have an actual protest as part of the Pride Parade, what's the point? You have this huge forum."
Recalling the 1999 Pride where her group protested against the TTC ads featuring brown men, she notes, "You have no idea what it was like going down Yonge Street in that truck with that sign. The crowds went crazy! For me, that's where we need to get back to. We must continue to protest, to make lives better, to make change happen, and to improve and save the lives of our queer youth, and our queer seniors."
"We must be doing it in partnership with Indigenous folks": on environmental sustainability
When it comes to how queer communities have taken on the cause of environmental sustainability, lee kam points to vital partners in this struggle. "Since we are an oppressed community, we must be doing this work. And we must be doing it in partnership with Indigenous folks, because we are living on their land. That's built into how they live, sustaining the land," notes lee kam. "In Trinidad, water is limited. I grew up with water being rationed at certain times of day. Water is so important."
Lee kam cautions Pride organizations against going green simply for optics. "I was very pleased to see that Pride has taken the lead in terms of going green. But I want it to be enshrined, not just surface actions that look good. Now, we are working with, and taking the lead from, Indigenous organizations."
"I have experienced more racism within queer white communities than I get outside": on racism in the queer community
Although lee kam feels that racism within our many queer communities is still rampant, she is encouraged by the current makeup of the Pride Toronto Board. The Board now boasts five women, including herself. Three women are Black, one woman is white, and leZlie identifies as Brown.
"When the Black Lives Matter movement started in Toronto, the larger white, queer community was challenged to acknowledge that anti-Black racism exists. Now with the current Pride Board, that wealth of knowledge has to be respected and acknowledged. How can we work with these three Black women but not tokenize them? And how do we hold the greater queer communities responsible for getting engaged? I have experienced more racism within queer white communities than I get outside."
"I have a responsibility to use my power and my privilege to make change happen": what keeps her advocating and celebrating
After nearly 50 years of queer advocacy, what keeps her advocacy fire lit?
She recalls June 2021, when a broken ankle kept her out of commission for 6 months. But that's didn't stop her from doing queer inclusion work from her hospital bed. Even when she got back home with a boot on her leg and a special walker, advocacy came calling. "The City of Toronto called to ask me to help them develop a toolkit for long-term care homes. So, I just got right back in! And I'm busier than I was before. It keeps me energized and keeps me going. But if I don't have fun doing it, I can't continue. Whenever I see a little glimmer of hope, that keeps me going."
With her many projects advocating for dykes, queer youth, queer seniors and racialized queer folks, she is also keen to stand up for Two Spirit people, queer newcomers, and queer and trans women. The title of Elder was bestowed upon lee kam by an Indigenous Elder, in honour of her Two Spirit advocacy work. She advocates for the 2S (Two Spirit) to be placed at the front of the acronym, in the spirit of honour, respect and reconciliation, and for the queer community to better engage and include Two Spirit folks.
Now that she uses a cane, a whole new world of accessibility issues has been brought to her attention. "I'm working with the Accessibility Coordinator at Pride to make sure that all of our venues are indeed accessible. Unless you're actually living it, you really don't understand what accessibility means," lee kam explains. "I am not the expert on accessibility, but I'm learning from people like my friend at Disabled, Queer and Fabulous. It's these things that keep me energized by giving back. I don't think about it consciously as giving back. That's just the fabric of my life. This is how I live."
To bring many of these issues together, lee kam points to her experiences at the popular Lavender dance parties, originally created as a safe party space for queer and trans women of colour. She was excited to attend, as it was at Glad Day with a queer, female DJ of colour. Unfortunately, her experience didn't go as expected. "White, queer and trans women were pushing and shoving. Who were they pushing and shoving? Us! I use a cane, and nobody accommodated me, no one was being kind," lee kam recalls. "Young, white, queer, and trans women behave badly, worse than young, gay, white men. I shouldn't have to worry about my safety when I go to a Lavender dance party. I'm treated better by straight people when I go out with my cane, than I am within the white queer community."
Before COVID, she participated in three panel discussions on disappearing spaces for queer and trans women. When she was asked how to make things better for queer and trans women, she didn't hesitate. "Number one, you have to acknowledge the racism that is playing out. Why are we still being racist? We are oppressed enough. And now we're doing the same thing to each other," she recalls. "When you're looking at creating any kind of space, it's about kindness, caring, compassion and respect. If you don't have those four principles, what's the point?"
And what keeps her celebrating the queer community? "People tend to underestimate me because I'm older and I use a cane. And I have a Trini accent – I'm a stereotype. I like to break stereotypes," she chuckles. "It's always keeping people guessing. But I know that I have a responsibility to use my power and my privilege to make change happen. It's serious, but I don't take it seriously. If I didn't practice self-care, I couldn't continue doing this. My biggest piece of self-care, apart from dancing, dim sum and doubles, is the Young and the Restless!"
"I want the Board to become engaged from an intergenerational perspective": on how far Pride Toronto has come
In closing, lee kam shares a story which demonstrates just how far Pride Toronto has come over the years. Lee kam started volunteering with Pride Toronto in 2010. By 2014, she noticed that there were no events for queer seniors. In the meantime, she and a colleague were holding an intergenerational event celebrating queer seniors at the 519, called Time After Time. But much like her previous experiences, when she went to Pride to ask for funds, she was turned down flat. 'We have no money for queer seniors – and where are these queer seniors anyway?', was the response she received. Never easily daunted, lee kam attended Pride Toronto's Annual General Meetings for the next two years to try to get senior issues on the agenda.
But at the 2017 AGM, she tried something different. With national media present, she went up to the mic and asked Pride Toronto a bold question: why had they funded an event for dogs for the last three years, while she was unable to obtain funding for queer seniors? "Next thing I know, we put a proposal together for Time After Time. And we got the money! 2017 was the first time that Pride did something for queer seniors – because I shamed them about dogs!" laughs lee kam.
Although lee kam is the Senior Dyke Ambassador this year, what she really wants is a more intergenerational perspective in our many queer communities. "I didn't join the Pride Toronto Board to keep pushing queer senior issues. I want the Board to become engaged from an intergenerational perspective. I'm pushing for better lives for queer youth, so I expect them to do the same thing. Even within our own communities of colour, we're not respecting our queer seniors. And we have to do that from an intergenerational perspective."
Social Media and Website Links
---
My Pride Story written by: Anna-Liza Badaloo (she/her) is a writer and consultant working at the intersection of health, environment and social justice.