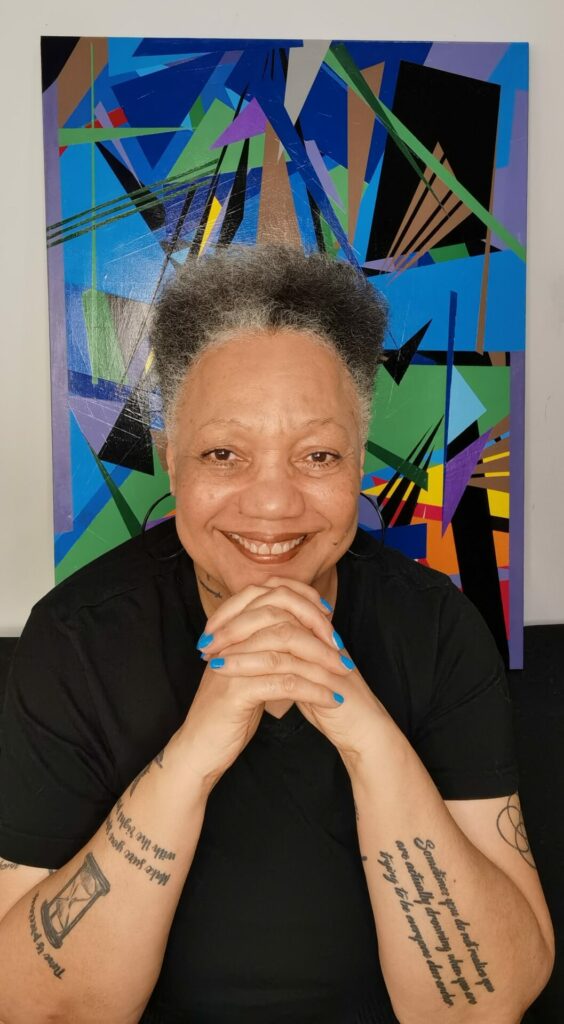 Bio
Gloria Swain, she/her, is a multidisciplinary queer Black elder artist on the asexual spectrum. Swain is an established visual artist, writer, and performance artist and advocates for anti-Black racism, violence against Trans people, seniors' rights, homelessness, mental health, and bringing awareness to police violence.
Born in the 1950s, Swain got her start as an artist at the age of 12, using art as a form of expression and a coping mechanism. She uses textured and layered abstract paintings to challenge the ongoing colonial violence against all who identify as Black women. Currently residing in Toronto, Swain holds a certificate in Community Arts Practice and a master's degree in Environmental Studies from York University. Her work has been shown in Toronto, Manitoba, and Montreal. Her writings have been published in Cultivate Feminism, Marvellous Grounds, and the Canadian Journal of Disability Studies.
Swain is a mother, grandmother, and social justice warrior and is known as Aunty Gloria.
Activism Highlights
For Gloria Swain, equality is a human right. Every person should be allowed to be who they are and to love who they love. She has worked, for years, to support initiatives and programs that unite, inspire, and support the disabled, youth and elders. She has worked to acknowledge the treatment of seniors and their contribution to fighting for equality, inclusion, and respect.
Gloria is a long-time supporter of Toronto's Church and the Wellesley community. Known as Aunty Gloria, her involvement in the queer community began, during the latter part of the '70s, in Brooklyn, New York. She moved to Canada in the mid-80s and proudly attended her first Pride in 1995.
Gloria continues to share her love of people and her passion for a better world. She has participated in 2021 Bigger Than We, An Intergenerational Space for Black Queer & Trans Folks. She has taken part in the annual Trans March, including the Black Trans March protest in 2016. Her performances include taking part in Blockorama since 2016. Gloria's artwork has been commissioned by Pride Toronto in 2021 and displayed in the Toronto office. Currently, Swain is a member of the Senior Pride Committee.
Ongoing Activism
For Gloria Swain, this year's opportunities, include Pride Senior Ambassador, performing at Blockorama: Together Again and Yohomo: Love on Top Pride events, being a Senior Pride Committee member, and working with SOY youth to create a Pride mural is a privilege and an honour to be included.
She plans to continue advocating for human rights and equality, senior rights and against police violence through social media to eradicate all forms of oppression including homophobia, heterosexism, lesbophobia, transphobia, biphobia, sexism, cissexism, racism, antisemitism, settler colonialism, xenophobia, islamophobia, ableism, and ageism.
Pride month is a time of celebration, reflection and remembering those who opened doors for generations to come. For Swain, as a senior and elder, Pride is a time to stand out, be seen and heard. It is part of the legacy she hopes to leave.
My Pride Story
You Have to Show up for Yourself: Senior Pride Ambassador Gloria C. Swain on the invisibility of queer seniors, the erasure of history, and the power of abstract art
"There is a desperate need to create strong support networks that serve queer elders, who are very likely to be socially isolated and lack access to adequate supports and care that elders need to age successfully."

Gloria C. Swain
Our 2022 Senior Pride Ambassador Gloria C. Swain (or Aunty Gloria, as she is known in the community) is a long-time advocate for the older queer community – especially Black folks. As a member of Pride Toronto's Senior Pride Committee, she has a lot to say about the current state of queer seniors – and we're living for it! We sat down with Swain to learn more about the lack of resources for queer seniors, the erasure of history, and how she uses abstract art to raise awareness of invisibility, colonization and more.
"There's a generation of separation": on making space for queer seniors to tell their stories
We owe our queer seniors a huge debt of gratitude. Their tireless advocacy and protest in past decades largely account for the freedoms that our community enjoys today. But in our youth-focused queer culture, our seniors are being left behind. "As a queer senior, being heard, seen, acknowledged and appreciated doesn't exist," says Swain. "As far as finding support, especially in two years of COVID isolation – there wasn't any." But Swain isn't the type to sit and wait for support to come to her. "You have to learn to lift yourself up," explains Swain. "When I think of all the work that not just myself, but other senior people have done – we've given the support. So where is our support?"
Swain feels strongly that younger community members could benefit from hearing the stories of queer seniors – if only they had a platform. "There's a generation of separation happening. But where are our stories being shared? We don't have space," Swain points out. "A lot of young people are suffering because they don't know the history. Some of the stuff that I see happening today – I've already experienced it. But if a young black woman heard my story, that would inspire her to keep going."
Swain welcomes open and honest conversations about her life. "I'm very open about my life, and I think that's why a lot of young people come and talk to me," says Swain. "There's not a lot of elders who are open to talking about their lives. It's that fear of discrimination, that stigma that judgment. I don't care about judgment. I'm 66 years old – judge me if you want to! I've done what I had to do."
The isolation of seniors is certainly not a new issue. But when it comes to the impact of COVID, queer seniors were disproportionately affected. "The fourth isolation impacted lot of older folks, there's no connection," says Swain. "I miss every Thursday, going to the Village to go dancing or to comedy clubs. I had that creative outlet. A lot of seniors have been left out. No one checks up on you, there's no resources or support. That truly affects your mental health, which affects your physical and spiritual health."
Swain feels fortunate to have her art, dance videos she posts every other night on her IG, and her ongoing advocacy work. But seniors are not the only group that she supports. "I'm going to continue to use my advocacy platform to address police violence against Black women, poverty, racism, Black mental health, violence against trans folks, and the human rights of First Nations people."
"That was my best life – but we didn't come out": on growing up in the South and finding community in New York
Growing up gay and Black in the Southern United States, Swain knows a thing or two about discrimination. While people around her whispered and joked about the few gay people in their community, for Swain, love was love. As a Black woman, her first high-school crush on a white man was a big no-no. Even more controversial was a crush on a white woman. She never revealed her feelings to this statuesque blonde crush, but opted to stay silent and take on the friend role.
But when she moved to New York in the late 1970s, she discovered a joy and freedom that she had never known. "That was my best life – but we didn't come out," recalls Swain. "There was no closet – we accepted, respected and supported each other. We were a family of artists, designers, dancers, strippers, photographers, singers, a real creative community." They took over empty building and put on balls, dances, and art shows. While others waited in long line-ups at the infamous Studio 54, her family always got in first.
"Each piece tells a story": on abstract art as advocacy
But her artistic endeavours were not limited to the 1980s New York art scene. Swain is a celebrated abstract artist, whose work explores issues of colonization, slavery and intersectional identity. Unfortunately, she doesn't get many opportunities to show her work in Toronto. Many people have told her that, had she been a white woman, her work would be well known and she would be properly compensated. "A lot of these spaces are all white men. They have one or two Black artists that they feel safe with," says Swain. "They look at me and say 'nope, we can't control her'."
Now, she still creates the work, but doesn't stress about setting up shows. Art is supposed to be healing, and healing is her resistance. She refuses to let ageism and racism turn a healing practice into a frustrating one. In fact, she is currently cataloguing all of her work with 100 canvasses currently taking up her bathroom. "Each piece tells a story, and the titles of the works present different parts of my journey," Swain explains. "Like Black women's mental health and police violence against Black women – things that no one talks about."
But it's not only these messages that stir controversy – its also her approach. Where many Black artists' work is figurative, hers is abstract. And according to Swain, there simply isn't a platform for someone like her in Toronto. She proudly stands by her artistic choice, refusing to create the stereotypically figurative Black art that the white art community expects. "If I just drew a picture of a black woman in a dress, we wouldn't be having this conversation," Swain notes. "Because there's so much happening in the painting, there are so many issues I can touch on. Especially when it's textured or layered." When she first started, her work was in tones of black, white and gray to reflect the colonization of and violence against Black and Indigenous communities. "White would drip down, representing the residue of white supremacy. Black was in thick, textured layers, representing the Black pain inflicted by white supremacy. I used grey fabric under grey paint to represent the fabric of oppression, which comes from the impact of colonization on black bodies."
Later on, she started using blue in her work – which is often misunderstood. "People don't understand the focus on my relationship as a descendant of Africans," says Swain. "My ancestors were stolen and shipped across water. I think of ancestors who have gone before me – blue is a very spiritual colour." What about the bright colours that sometimes appear in her work? "That's like the makeup that we use to cover up what we're going through."
"I just felt like I belonged": on her first Pride
Although Swain moved to Toronto in the mid-1980s, she didn't attend her first Pride until 1995. Fresh from her second divorce and with a young daughter, she was once again searching for a space where she belonged. As a single, Black mother back then, there was no support or services. She was all on her own. But then she saw an ad for Toronto Pride that took her back to her New York days. With her daughter in tow, she headed to the festivities and felt all the joy that she had pushed aside. "It was that freedom of seeing everyone getting along, younger and older people together. I just felt like I belonged."
"I took my daughter, because I raised her to be respectful and not judgmental," Swain explains. "That's where discrimination and homophobia come in, right? If you don't teach them, they won't know." After that, Swain became a fixture at the Dyke March, and you may have even seen her wining down at Blockorama. Close to 30 years later, Swain has only missed two Toronto Prides – and that was because of COVID. She still attends Pride every year with her daughter. And now her son-in-law comes too!
"Why are you there if you're not going to speak up?": on environmental sustainability and anti-racism
No stranger to combining environmental and social justice issues, her Masters in Environmental Studies thesis explored issues of intergenerational trauma and violence against Black women. When asked how she thinks the queer community has taken up the mantle of environmental sustainability, she pauses. "There's so many other issues that our community is facing right now. The environmental aspect does relate to what's happening now. But I think there's so much pain. When you walk into the office of an environmental organization, you don't see someone who looks like me. We have to start with representation."
When it comes to anti-racism in the queer community, she stresses the importance of everyone speaking up when they see racial injustice. Many times, she has seen both racialized and white people stay silent, even as part of committees dedicated to anti-Black racist action. "Why are you there if you're not going to speak up?" asks Swain. "You have to step up when these things happen, you don't just show up to please the white man."
"There's still a lot of stigma, fear and discrimination": on what keeps her advocating and celebrating
After so many years of advocacy for queer, racialized seniors, what keeps her advocacy fire lit? "There are still folks who are afraid to show their true selves," says Swain. "There's still a lot of stigma, fear and discrimination. As an elder who's been out here for a long time, young people and other people need to see that it's safe to be who you are. There's no shame in who you love. By speaking up and being there, I hope that I represent, inspire and motivate people to just be themselves."
Luckily, she sees hope on the horizon. "There's the invisible generation, from the 1920s and the 30s when it was a crime to be gay. I grew up during the Pride generation in the 1950s and 60s, the Stonewall riots, revolution, and ongoing decriminalization. I am part of the generation who lived through the AIDS crisis that started in the 1980s and lost friends and family members to it. Today, more people (especially young people) are standing up, speaking out, taking a stand for human rights, and showing up for each other. This generation is fearless, beautiful, and revolutionary."
Social Media and Website Links
---
My Pride Story written by: Anna-Liza Badaloo (she/her) is a writer and consultant working at the intersection of health, environment and social justice.