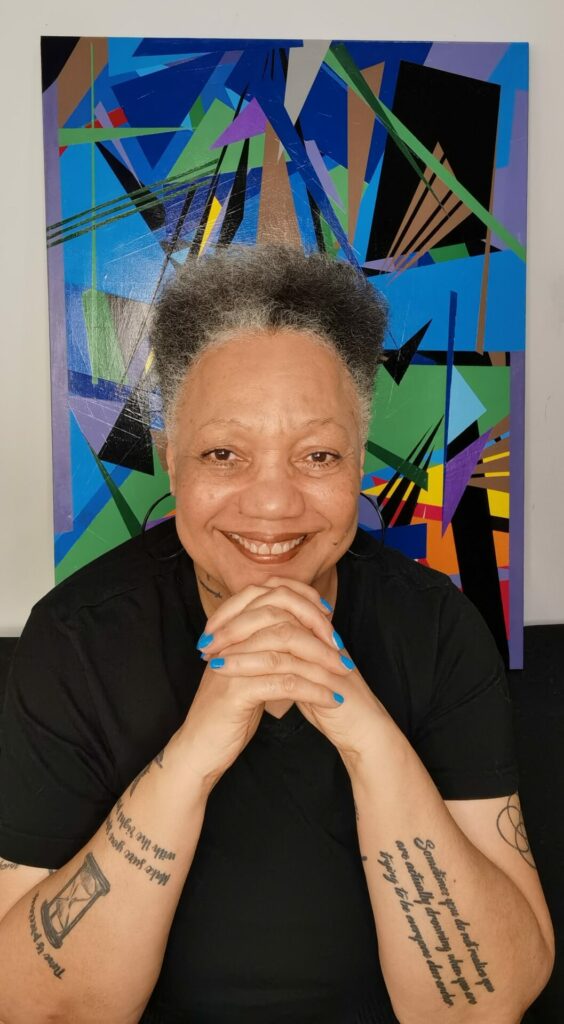 Bio
Gloria Swain, she/her, is a multidisciplinary queer Black elder artist on the asexual spectrum. Swain is an established visual artist, writer, and performance artist and advocates for anti-Black racism, violence against Trans people, seniors' rights, homelessness, mental health, and bringing awareness to police violence.
Born in the 1950s, Swain got her start as an artist at the age of 12, using art as a form of expression and a coping mechanism. She uses textured and layered abstract paintings to challenge the ongoing colonial violence against all who identify as Black women. Currently residing in Toronto, Swain holds a certificate in Community Arts Practice and a master's degree in Environmental Studies from York University. Her work has been shown in Toronto, Manitoba, and Montreal. Her writings have been published in Cultivate Feminism, Marvellous Grounds, and the Canadian Journal of Disability Studies.
Swain is a mother, grandmother, and social justice warrior and is known as Aunty Gloria.
Activism Highlights
For Gloria Swain, equality is a human right. Every person should be allowed to be who they are and to love who they love. She has worked, for years, to support initiatives and programs that unite, inspire, and support the disabled, youth and elders. She has worked to acknowledge the treatment of seniors and their contribution to fighting for equality, inclusion, and respect.
Gloria is a long-time supporter of Toronto's Church and the Wellesley community. Known as Aunty Gloria, her involvement in the queer community began, during the latter part of the '70s, in Brooklyn, New York. She moved to Canada in the mid-80s and proudly attended her first Pride in 1995.
Gloria continues to share her love of people and her passion for a better world. She has participated in 2021 Bigger Than We, An Intergenerational Space for Black Queer & Trans Folks. She has taken part in the annual Trans March, including the Black Trans March protest in 2016. Her performances include taking part in Blockorama since 2016. Gloria's artwork has been commissioned by Pride Toronto in 2021 and displayed in the Toronto office. Currently, Swain is a member of the Senior Pride Committee.
Ongoing Activism
For Gloria Swain, this year's opportunities, include Pride Senior Ambassador, performing at Blockorama: Together Again and Yohomo: Love on Top Pride events, being a Senior Pride Committee member, and working with SOY youth to create a Pride mural is a privilege and an honour to be included.
She plans to continue advocating for human rights and equality, senior rights and against police violence through social media to eradicate all forms of oppression including homophobia, heterosexism, lesbophobia, transphobia, biphobia, sexism, cissexism, racism, antisemitism, settler colonialism, xenophobia, islamophobia, ableism, and ageism.
Pride month is a time of celebration, reflection and remembering those who opened doors for generations to come. For Swain, as a senior and elder, Pride is a time to stand out, be seen and heard. It is part of the legacy she hopes to leave.