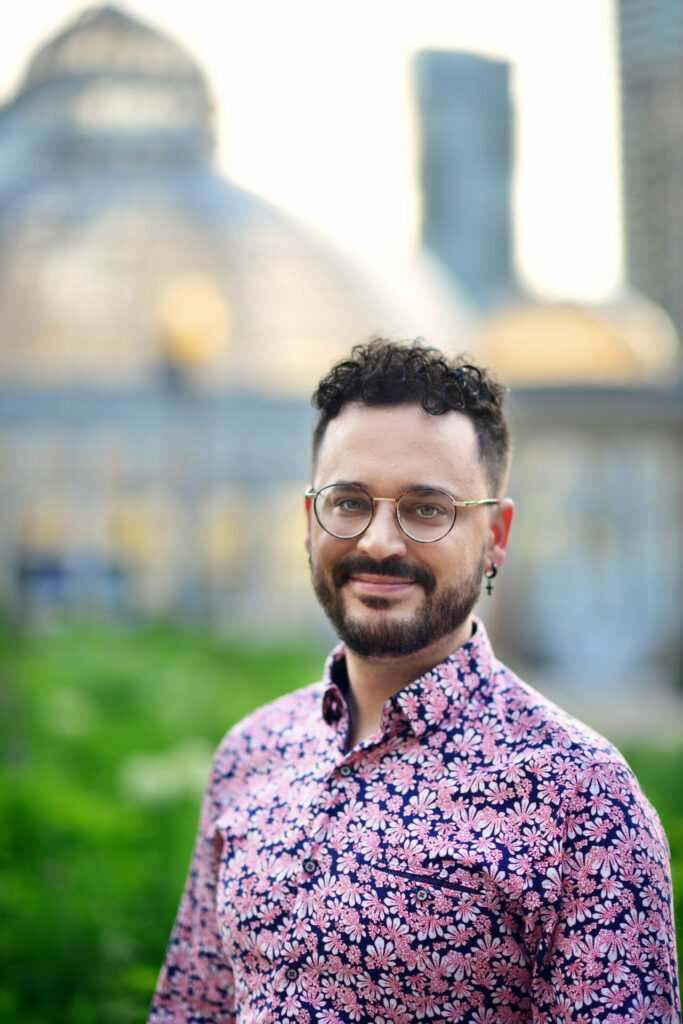 Bio
Arnaud Baudry (he/il) is a cis gay man from Boussay, a small rural town in France, and has been living in Canada since 2011. Trained in computer science, multimedia production and international development, Arnaud worked as a community builder in the media industry for 12+ years, including Canadian queer publication Xtra Magazine. He has been involved for the past 8 years in FrancoQueer, the first Francophone organization entirely dedicated to serving the French-speaking 2SLGBTQIA+ community in Toronto and Ontario, of which he is now the Executive Director. In his leadership role, Arnaud has grown FrancoQueer from a volunteer-based to a multi-staff organization, he has been a key contributor to the development of settlement services, social and artistic activities, and to awareness-raising initiatives to
support and empower the queer Franco-Ontarian community. Driven by a vision of social justice and humanistic values, he works to create a welcoming and inclusive space for Francophone 2SLGBTQIA+ newcomers and community members, as well as to serve and organize a community living at the intersection of multiple identities in a linguistic minority context. Bringing a holistic approach to community health and well-being, he is dedicated to building a tight-knit network of French-speaking queer and trans people so that every person can feel belonging and find the confidence to thrive. He is very grateful to all the people he has worked with along the way and to his close chosen family which makes his heart smile.
Past Activism Highlights
Eager to connect with other Francophone queers and see his community thrive, Arnaud first joined FrancoQueer as a volunteer to continue the work started by his predecessors in 2006 to get queer Francophone voices heard. He grew into a leadership position and collaborated with peers to develop activities and services that meet the needs of the community. He developed and sustained settlement services for French-speaking LGBTQIA+ newcomers and refugees that contribute to making integration easier. With the aim of increasing mutual discovery and understanding between the Anglophone and Francophone queer communities, he created a bilingual community connection program. Using arts and social activities as a key ingredient for community building, he co-produced multiple events and a queer Francophone film series, to showcase and celebrate Francophone creativity. During the covid-19 pandemic, Arnaud responded to the most affected of our community members by developing mental health initiatives and a food assistance program. He has also launched a school training program to increase understanding and inclusivity toward sexual and gender diversity in youth.
Current Activism Highlights
Arnaud continues his work with the development of an awareness and training program for community partners which aims to increase inclusivity within existing services in the community. He's also working on developing a network of Francophone queer communities across Ontario and strengthening a volunteer and mentorship program. He's developing new socio-cultural events and strategic partnerships to expand knowledge, reduce discriminatory practices and increase the capacity to provoke and sustain positive change for the Francophone queer and trans community.
Social media information:
https://www.linkedin.com/in/arnaudbaudry/