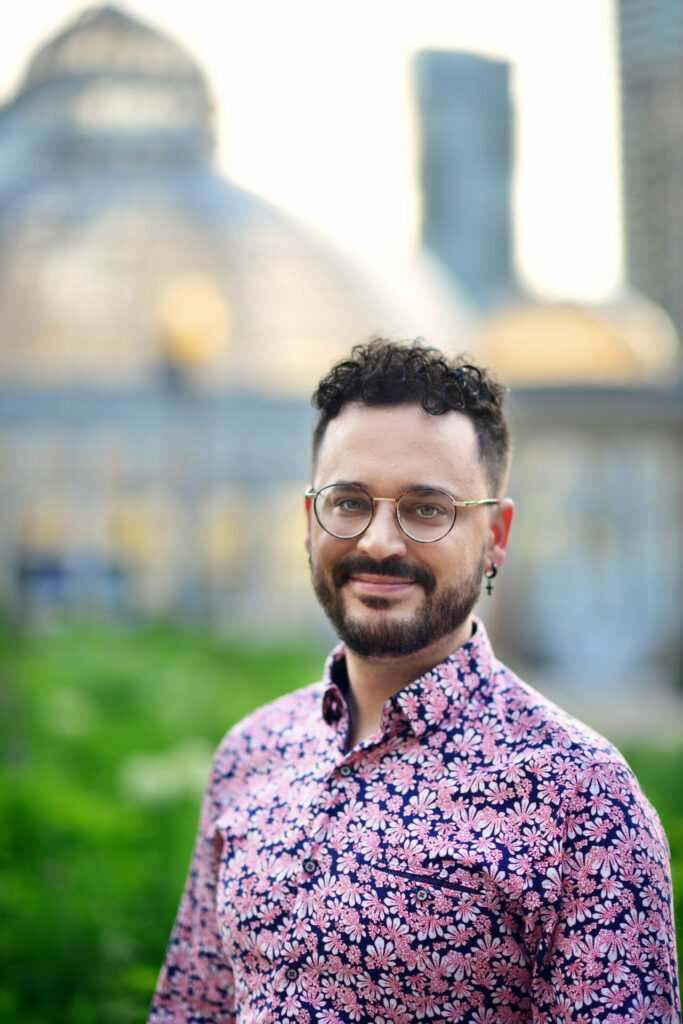 Bio
Arnaud Baudry (he/il) is a cis gay man from Boussay, a small rural town in France, and has been living in Canada since 2011. Trained in computer science, multimedia production and international development, Arnaud worked as a community builder in the media industry for 12+ years, including Canadian queer publication Xtra Magazine. He has been involved for the past 8 years in FrancoQueer, the first Francophone organization entirely dedicated to serving the French-speaking 2SLGBTQIA+ community in Toronto and Ontario, of which he is now the Executive Director. In his leadership role, Arnaud has grown FrancoQueer from a volunteer-based to a multi-staff organization, he has been a key contributor to the development of settlement services, social and artistic activities, and to awareness-raising initiatives to
support and empower the queer Franco-Ontarian community. Driven by a vision of social justice and humanistic values, he works to create a welcoming and inclusive space for Francophone 2SLGBTQIA+ newcomers and community members, as well as to serve and organize a community living at the intersection of multiple identities in a linguistic minority context. Bringing a holistic approach to community health and well-being, he is dedicated to building a tight-knit network of French-speaking queer and trans people so that every person can feel belonging and find the confidence to thrive. He is very grateful to all the people he has worked with along the way and to his close chosen family which makes his heart smile.
Past Activism Highlights
Eager to connect with other Francophone queers and see his community thrive, Arnaud first joined FrancoQueer as a volunteer to continue the work started by his predecessors in 2006 to get queer Francophone voices heard. He grew into a leadership position and collaborated with peers to develop activities and services that meet the needs of the community. He developed and sustained settlement services for French-speaking LGBTQIA+ newcomers and refugees that contribute to making integration easier. With the aim of increasing mutual discovery and understanding between the Anglophone and Francophone queer communities, he created a bilingual community connection program. Using arts and social activities as a key ingredient for community building, he co-produced multiple events and a queer Francophone film series, to showcase and celebrate Francophone creativity. During the covid-19 pandemic, Arnaud responded to the most affected of our community members by developing mental health initiatives and a food assistance program. He has also launched a school training program to increase understanding and inclusivity toward sexual and gender diversity in youth.
Current Activism Highlights
Arnaud continues his work with the development of an awareness and training program for community partners which aims to increase inclusivity within existing services in the community. He's also working on developing a network of Francophone queer communities across Ontario and strengthening a volunteer and mentorship program. He's developing new socio-cultural events and strategic partnerships to expand knowledge, reduce discriminatory practices and increase the capacity to provoke and sustain positive change for the Francophone queer and trans community.
Social media information:
https://www.linkedin.com/in/arnaudbaudry/
https://www.facebook.com/FrancoQueer/
My Pride Story
"Canada is only bilingual on paper": Francophone Pride Ambassador Arnaud Baudry on the queer Francophone experience, newcomer challenges and building queer, French-speaking community
"It's like living between two worlds, and not finding the place where you belong."

Arnaud Baudry
Although Canada is officially a bilingual country, Francophones in Toronto have a hard time accessing services in French. For queer, newcomers who also have to adjust to Anglophone culture, the social isolation is real.
We sat down with Arnaud Baudry, Executive Director of FrancoQueer, and this year's Francophone Pride Ambassador, to learn about the challenges that queer, Francophones face, adjusting to a new language and culture, and finding queer, Francophone community in Toronto.
"It's like living between two worlds": on queer, Francophone challenges
Anglophones tend to take English for granted. They can access services and support in English across the country. Unfortunately, Francophones do not have the same luxury. "Living as a French speaker in an Anglophone environment is a big challenge," says Baudry. "Even though Canada is bilingual on paper, it's still difficult to access French services."
Francophones are a diverse group, made up of many different cultural backgrounds. Francophone newcomers have to adjust to a new culture and learn a new language. "Francophones aren't just one culture. When newcomers arrive in Canada, they may not speak English very well. Those first few years can be hard while you're learning."
FrancoQueer is the first association by and for Francophone LGBTQIA+ people in Ontario. "Since the start, there were people coming to Canada as asylum seekers," says Baudry. "They needed help to navigate the system, get support, and find the right services. Helping newcomers is a strong part of the organization's history."
Now, they offer settlement services to newcomers, asylum seekers and refugees, specifically at the intersection of French speaking and queer identities. They assess each person's situation, and direct them towards the services they need, including housing, employment and education. For asylum seekers, the process can be particularly challenging. "There are challenges with mental health, because its quite a long process for asylum seekers," explains Baudry. "You're basically blocked from everything. You're not allowed to work until you get your refugee status, and you can't access health services."
This puts people in a precarious situation. "You're permanently questioning if you're going to stay, or not. There is always that risk at the back of your mind, that you might be sent back to the country that you're fleeing, because you're at risk of getting killed or imprisoned because of who you are," Baudry explains. "You can't project yourself into the future. That isolation and disconnection from the community has a big impact on mental health. And you can't access mental health services, because you don't have status."
Baudry notes special concerns for Francophone newcomers from African and Caribbean countries. "You've lived your life hiding who you are, because you know you're at risk from family, society or the state. You're questioning your identity," says Baudry. "Then you come here and encounter racism, which may be new to you. And you're questioned about another aspect of your identity, related to who you are, and to your rights. It's like living between two worlds, and not finding the place where you belong."
Such challenges are the reason that FrancoQueer's Immigrant Hub exists. "It's creating that environment where you start with recognizing the dignity of the person, and you create that inclusive space where people feel welcome, and have a place to better themselves or rebuild themselves in all aspects of their identities. It's very important to connect people with similar experiences and develop that sense of belonging."
"It was an opportunity to dive deep into myself": on his journey to Canada and finding queer, francophone community
Baudry had his own newcomer journey. He moved to Canada from France in 2011. He acknowledges that his experience was different from many queer, Francophone newcomers, as he is a white, cisgender, male. While he was exploring his new country and improving his English, he was also searching for himself. "It was an opportunity to dive deep into myself, to look at who I am. I traveled across the country from Halifax to Vancouver," Baudry recalls. "I met a lot of Francophones across the country. I quickly realized that Canada is not the bilingual country that it presents itself as. But there are many Francophone communities across the country, and it was interesting to connect with them."
His grandparents were farmers, and his parents were factory workers. During his travels, he noted how class affects language. "I saw those links between the way that people speak French in some parts of Canada, and the way that my grandparents spoke. There was a strong emotional connection to that," explains Baudry. "It was an interesting way to understand myself as a French speaker in Canada, coming from a middle- class family. Something developed in me – that understanding of where I'm from, what belonging means, and how that relates to language."
After his cross-Canada trip, he moved to Toronto for love. This relationship with a non-Francophone also presented new challenges and opportunities related to language. "That intersection between language and queer identity is what really got me involved in developing that community of French speaking, queer people." When he discovered FrancoQueer (after all, the intersection is right in the name), he knew he had found his entry point into building queer, Francophone community here in Toronto.
He started volunteering at FrancoQueer in 2015, working on newcomer programs, events and more. Soon he took a stronger role on the Board of Directors. "Over time, I got more and more involved in the development of the organization, programs, and creating those connections within our community and with other organizations." Just last year, Baudry was named Executive Director of FrancoQueer.
"You feel like you're not the person that society wants you to believe you are": on his first Pride
Around the year 2000, Baudry attended his first Pride in Paris. "Seeing that you can be yourself, and be proud happy, and surrounded by people who are like you was an amazing experience," Baudry recalls. "Being part of that very joyful event, you feel like you're not the person that society wants you to believe you are. Meaning you're not abnormal. You're not a person who doesn't count. You're not the person to laugh at, or put to the side. You're part of that bigger community. You belong, you matter."
"We know that our way of living is not sustainable": on environmental sustainability in the queer community
Baudry calls himself a harsh realist when it comes to the state of the environment. "We know that our way of living is not sustainable. You can see in the data that everything we've been doing for the last 30 to 40 years has had no impact on climate change or our consumption of fossil fuel-based energy," says Baudry. "Our system wants us to feel like the responsibility falls on the individual. But the individual has no power in this. When you're asked to consume or deal with garbage in a certain way, it's really to make you feel better. But it doesn't really change things on a larger scale."
When it comes to how the queer community has taken on the cause of environmental sustainability, Baudry feels that we're not doing enough. But as he notes, government, international collaborations and organizations are also not doing enough.
Baudry calls on the government to take a bold approach. "We need governments that are realistic, brave, and not afraid to look at everything that needs to be changed. How to sustain the economy is not the right way to think about those things. Now the question is, are we changing things? Or are we just continuing this way until we hit the wall and we collapse?"
"Our structures and systems sustain that discrimination": on racism in the queer community
Baudry is deeply saddened by the racism that he sees in the queer community. "The queer community has experienced discrimination and being on the on the margins of society. You would think that we would have a better understanding of inclusivity and recognizing the humanity within each of us. We're not where we should be."
Baudry calls upon the community to be better listeners, and work to dismantle oppressive societal structures. "People who are experiencing racism, discrimination and xenophobia have stories to share, but also solutions. We need to listen, and follow what they are saying. There's a lot more that needs to be done to deconstruct our different systems of oppression, and those hundreds of years that were built to discriminate against Black and racialized people," says Baudry. "Its no longer about awareness – its about action. Look at how our structures and systems sustain that discrimination. How do we change the way that institutions are created? We have to be unafraid to change things, and build new structures and institutions that are more centered on our humanity. It's everybody's responsibility to dismantle and rebuild."
Looking back at our queer history reminds us of the strong role that racialized people have played in liberation. "We need to create more opportunities for people who are at those intersections to rebuild those structures. When you think about the gay liberation movement, it was led by queer, trans, people of color and black trans women," Baudry notes. "We have to reconnect with that and not be afraid. The queer community could really lead that movement, because of our history of oppression and liberation."
"As long as we exist, there will be queer activism": what keeps Baudry advocating and celebrating
According to Baudry, once you get involved in activism, you can only continue. There is simply no other way. "We all want to be recognized in our dignity and humanity. There's also the opposite of progressive activism, conservativism and fundamentalism, that will always tell you that you don't belong, that you shouldn't exist, that you're abnormal. As long as we exist, there will be queer activism."
"What keeps me going is that I'm alive!" laughs Baudry. "And also compassion with all the different struggles. We all want to go in the same direction, and all our struggles are related. What keep me lit is that vision of where we want to go. When I listen to the experiences of people that we serve in the organization, it really has an impact on me. We all have a different combination of identities. But feeling those emotions that relate to how the person feels, that empathy, is a key part of activism."
Ultimately, advocacy and celebration are all about creating the kind of world we want to live in. "Our society is not based on the right values. We need to take a step back, and rethink what type of society we want to build," suggest Baudry. "What do we consider important in our lives? We need a big shift in values. I'm optimistic about the opportunity for society to move away from how we currently work, to build something new and better."
Social Media Accounts and Websites
---
My Pride Story written by: Anna-Liza Badaloo (she/her) is a writer and consultant working at the intersection of health, environment and social justice.