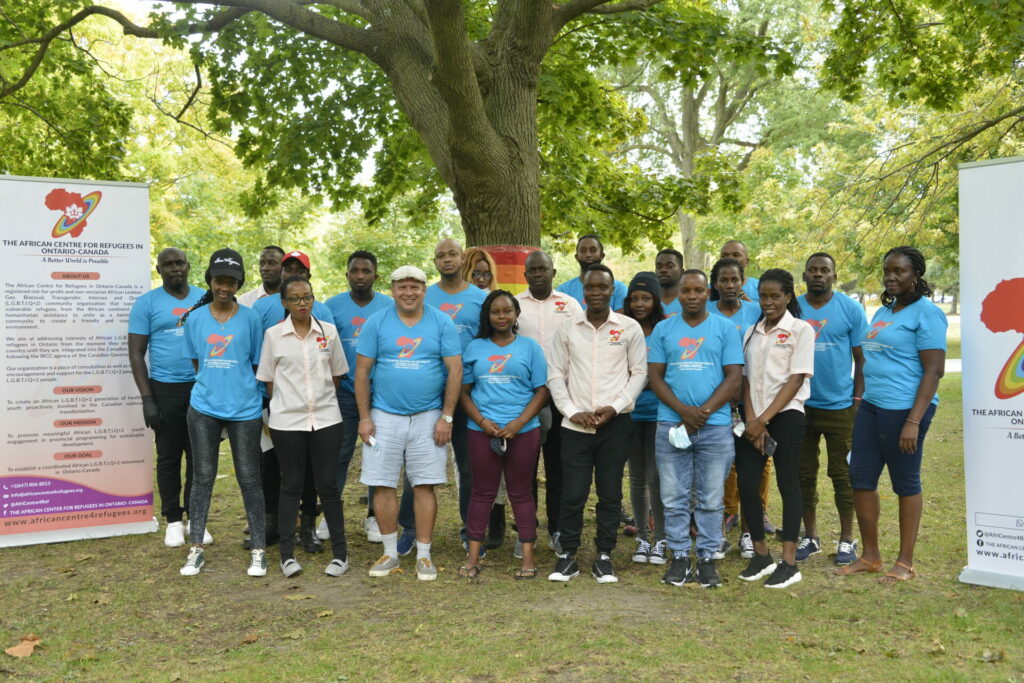 "When you're arrested, you're in prison for the rest of your life": the African Centre for Refugees' Christopher Nkambwe on supporting queer, newcomers from Africa
"Being an LGBTQ person in Uganda is very illegal. They think of us as abnormal people who have no value, that recruit people into homosexuality."

Christopher Nkambwe, African Centre for Refugees
When trans activist Christopher Nkambwe came to Toronto from Uganda in 2019, she faced many obstacles. Inspired to prevent queer newcomers from Africa from experiencing the same settlement challenges, she founded the African Centre for Refugees, a charitable organization that supports vulnerable LGBTQ+ refugees, and other people from the African continent with humanitarian assistance right from the time they enter Canada.
This year the African Centre for Refugees will celebrate its third anniversary. And – they are Pride Toronto's Honoured Group for 2022. We sat down with Nkambwe to learn more about her journey to Canada, how she founded the African Centre for Refugees, and how the organization is helping queer, African newcomers stay in Canada, and find community.
"When you're taken to a police cell, you're either beaten or raped": on her LGBTQ activism in Uganda
Uganda is by no means the only African country where being gay is still a crime. But the country has a particularly violent record when it comes to assaults and imprisonment of queer people.
Few understand this better than Nkambwe. Long involved in organizing Pride Uganda, her life was stake. She was at risk of being killed simply for her trans identity and her LGBTQ advocacy. In fact, a near arrest was the catalyst for her journey to Canada.
Queer people in Uganda are not able to get medication from health facilities. In May 2019, Nkambwe and her fellow activists worked with a medical service provider to set up a space where queer people could access free services. Their outreach included giving out free medication, condoms and lubricants. "Abruptly, the police raided. I was arrested for promoting homosexuality in Uganda," Nkambwe recalls. "They also thought that I was recruiting young people into homosexuality, which is a very illegal thing in Uganda. They didn't know that I was offering a free service to my community."
Unfortunately, the Village Chairperson called the police with reports of 'unusual people' (a common term for queer folks in Uganda). With people literally running for their lives all around her, Nkambwe surrendered herself to the police, as the person leading the outreach.
In the confusion, she managed to escape from the police. But her place was only 15 minutes away. She knew that if she went home, she would be quickly arrested again. Other organizations helped her find a place to stay to avoid re-arrest. "When you're arrested, you're in prison for the rest of your life. When you're taken to a police cell, you're either beaten or raped. Lots of bad things happen when you're in custody," Nkambwe explains. "When they take you into custody they say, 'This one is promoting homosexuality'. Then everybody knows that you are a homosexual."
This was by no means the first time she had seen queer activists get arrested. She was on the Organizing Committee for Pride Uganda for years and recalls a few years ago when police raided the parade and made a number of arrests. "Being an LGBTQ person in Uganda is very, very illegal. They think of us as abnormal people who have no value, that recruit people into homosexuality," Nkambwe explains. "They don't know that being an LGBTQ person, you are born that way. We have never been sent to any country to get 'contaminated' with homosexuality."
"I had no family or organization that I was attached to": on settling in Canada
Before this incident in late May 2019, Nkambwe had secured a visa to come to Canada for the Women Deliver Conference in June 2019. On June 1, 2019, Nkambwe made her triumphant entry into Canada. Her own story gives a sense of the challenges that many newcomers face. "It was not easy for me, because I knew no one in Canada. I had no family or organization that I was attached to," Nkambwe recalls. "At the airport, I asked an Uber driver to take me to any shelter downtown."
But when she got there, she found that they had no empty beds. They gave her two tokens to get to the downtown Intake Centre. "I didn't know how to navigate the system, how to use the tokens, or anything about the transportation system. It was really difficult." When she finally got the Intake Centre, the only space they had available was a tiny spot next to the urinals. But at least she had a place to rest. Luckily, they soon found her another shelter that had available beds.
"How many newcomers have to go through this?": on founding the African Centre for Refugees
In the meantime, she was going through the process of claiming for refugee status. She learned about the 519 and went in for an intake and orientation. This is where she learned about their Legal Clinic. But it wasn't only for her own refugee claim. "I went through hell finding a place to call home and finding somebody to welcome me in Canada as a newcomer. Getting attached to an organization, navigating the system, finding a lawyer – this was all new to me. I wondered, 'how many newcomers have to go through this?' recalls Nkambwe. "When I spoke to other newcomers in the shelter, we found that we had similar experiences. If people are not welcomed, they will go through the same issues that we went through. That's what prompted me to start the organization, supporting and welcoming newcomers to Canada."
The support from the 519 really helped her put her years of activism in Uganda to work here in Canada. She met with someone from the 519 Legal Clinic to learn how to start an organization that could support her fellow queer newcomers. She learned what paperwork she had to fill out and who she had to contact.
But starting an organization isn't free. "I got a part-time cleaning job making $15/hour. I started establishing myself and investing in the organization," Nkambwe explains. "I had to pay for booking the name and registering the organization. When the money was used up, I had to wait until I got paid, then resume. That is how we came into existence."
While she waited for the paperwork to come through, she wasn't idle. She used this time to start serving her community and gather a team of volunteers. By November 2019, a mere five months after her arrival in Canada, she was ready to launch the organization. With no funds, the Regent Park Community Centre stepped up to provide a free space for the launch. They had no office space, computers, or marketing materials, and she rushed to get a pull up banner printed to show that the organization was here to stay.
She invited the community to come see what programs and services were on offer to support queer newcomers. Where she expected about 10 people to attend, an astonishing 41 newcomers showed up! "I will never forget that day. I had no money, and all I could offer was mineral water," recalls Nkambwe. "But the newcomers were not after tokens or food. They were after the services that they could get from the center."
She was proud that her community work was being recognized not only by the people close to her, but by the community at large. And the connections she made that day would prove to be the foundation of The African Centre for Refugees. "I made a lot of friends, and most of them wanted to join the organization. Since then, I've been working closely with them at the centre, they have never left me," says Nkambwe. "I call them my staff. I don't call them volunteers, because people have to work. But anytime I call upon them, they come. That is the respect they have for the organization, and the love they have for both the organization and myself as the founder. I'm very grateful for the team, and the community at large."
Almost three years later, the African Centre for Refugees is moving from strength to strength. And it's having a big impact on the newcomer community. "As I speak, at least 70% of newcomers are not going through the same challenges that I went through, because they know about our organization. We do this through our programs and volunteer orientations. We bring in people from different countries to be oriented as volunteers, and I support them. We meet via Zoom, and I provide support such as writing support letters for their court hearings. I'm glad to say that the success rate at which newcomers are getting their permanent residence is really high."
Since the launch in November 2019, the organization has served over 500 newcomers. Although they still don't have program funding, Nkambwe is keeping the organization going through hard work. "I'm still a cleaner, and I'm proud to be," says Nkambwe. "It is through cleaning that I'm serving my community. People are no longer facing the challenges that I went through. I share my story and tell them, 'You're lucky! Now you have the African Center for Refugees. When you get here, there's somebody who can tell you to call Chris.' In the past few days, we have received over five newcomers. And all of them are interested in volunteering, because of the work we are doing at the center."
When the pandemic brought their in-person programming to a halt, they moved online to offer virtual programs such as the PALS Chat Program, which runs every Saturday. "We bring in different people and service providers, like lawyers, medical personnel and community members. We share, discuss how to integrate into the Canadian setting, how to find employment and get housing. We speak about all issues that concern us as newcomers."
The organization has worked hard to join networks that are aligned with their vision. The African Centre for Refugees partners now include the Ontario Council for Agencies Serving Immigrants (OCASI), the Neighbourhood Group, Dignity Network Canada and Rainbow Refugee. "Joining these networks is one of the great achievements of the organization," says Nkambwe proudly. "We cannot work alone. But if you have partnerships with established organizations, that gives visibility to our work."
In fact, Nkambwe is in the process of organizing the first newcomer conference in Canada, in partnership with many of these groups. She hopes that this will lead to gaining funding from the federal government, as their advocacy and community work continue.
"I was shocked to see police protecting LGBTQ individuals": on her first Pride
Nkambwe arrived in Toronto just in time for Pride 2019. "I had never seen such a huge congregation of LGBTQ people coming together and marching freely! The way it was organized, and how people were dancing and celebrating who they are."
When compared to her experiences in Uganda, this wasn't the only thing she found shocking. "Back home, police arrest people for marching for who they are. I was totally surprised to see police giving help, waving at the marchers, and providing security to Pride participants!" exclaims Nkambwe. "Back home we do Pride, but our hearts are not peaceful. We are scared of police raids."
Although there has been much debate in recent years about what involvement the police should have at Toronto Pride, or whether they should be there at all, Nkambwe feels that Canadians need to check their privilege. "Many Canadians have not been to countries where homosexuality is illegal. Back home, they arrest us for marching for those who cannot march. Despite the fact that the police here have limitations during Pride, for me, I was shocked to see police protecting LGBTQ individuals."
"On top of being racialized, we are vulnerable": on racism in the queer community
When it comes to tackling racism in the queer community, Nkambwe has a message for non-racialized community members. "People need to understand that racism still exists. On top of being racialized individuals, we are vulnerable. That means that we really, really need support," says Nkambwe. "We need help to connect us with other organizations that are doing the same amazing work of fighting racism, such that we build a strong network that can support queer communities."
Nkambwe is looking forward to Global Black Pride in Toronto this year, for many reasons. "I'm excited to see people from the African continent (and from my country, Uganda) who do activist work coming together on one platform, speaking for those who cannot speak, advocating for those who cannot advocate for themselves. This gives us pride, to advocate for LGBTQ persons back home, here in Canada, and globally," explains Nkambwe. "This is also an opportunity to learn how to organize such as event, as I want to hold a convention for African human rights defenders."
"I don't want to see anyone suffering when I have the ability to support them": on what keeps her advocating and celebrating
This October, the African Centre for Refugees will celebrate their 3rd anniversary. And Nkambwe's work isn't done yet. "What keeps me doing this work is the passion that I have for my community. As an LGBTQ individual, I don't want to see anyone suffering when I have the ability to support them."
She finds great inspiration from two, simple words. "When I see that somebody has gone through their court hearing successfully, there are two small words that we say: thank you. That 'thank you' is what keeps me going," explains Nkambwe. "Seeing somebody who is happy and saying, 'Thank you, I've gotten my permanent residence, I'm now living in good times', it really pushes me."
Given Nkambwe's incredible drive and accomplishments, she is very humble about her own role. "The work that you see on our website is not done by Chris only, it is done by the team of volunteers. We are not paid, but we respect each other. They are my hands where I cannot reach. It's not me who's doing the work, but it's the team," says Nkambwe. "We have won several awards. At meetings, I tell them 'This is not a win for Christopher. This is a win for all of us, and for the African center. These achievements that we've had, they are for the entire team.'"
Social Media and Website Accounts
---
My Pride Story written by: Anna-Liza Badaloo (she/her) is a writer and consultant working at the intersection of health, environment and social justice.