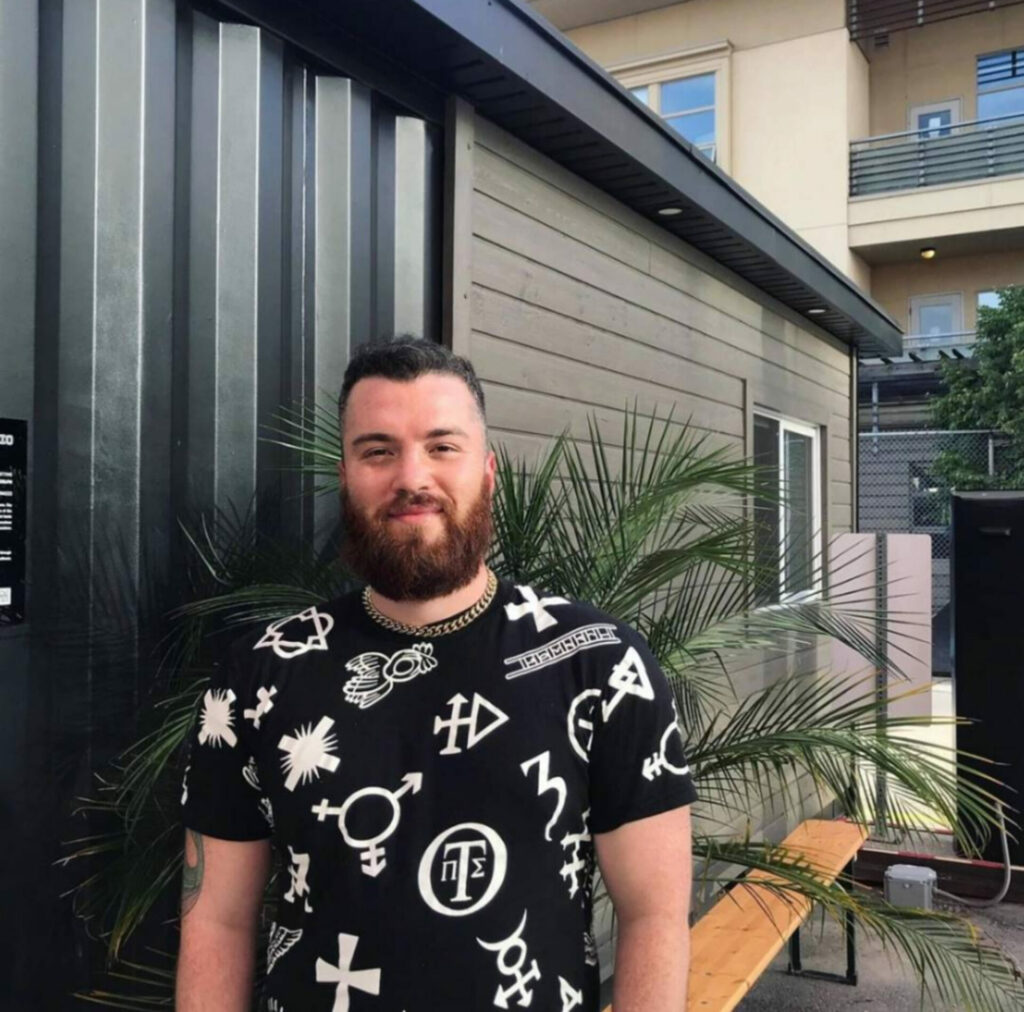 Aeryn Pfaff is a social media manager, journalist, DJ and activist based in Toronto. He is a gay man who works creating educational content on HIV, AIDS and sexual health for gay men, queer trans men and non-binary people, and he's lit up dancefloors in Toronto and beyond for 10 years. He's a biracial millennial with ADHD who likes chicken parmesan sandwiches.
Aeryn has detailed the progress of his sobriety for the last two and half years online, despite working in entertainment. "I really want queer and trans people to know that you can be sober and live a creative, exciting life. You can be an artist, you can love being around music and friends, and you can also examine your alcohol intake and substance use and make changes if you want to," he says. "I'm not against using it for everyone. If drinking or drugs don't diminish your quality of life or affect your mental health, that's great. Everyone's journey is their own and this is mine. If watching my journey helps you reflect on yours and see what's possible, that's what I want."
Aeryn believes in creating space online and in person for introspection, vulnerability and growth. "Open conversations about mental health are a newer idea than some of us realize. The idea that therapy, addressing our trauma, talking about our feelings, and taking medications if we need them are good things is very new," he says. "Stigmas around this stuff don't make us happier or healthier."
Aeryn began working in Toronto's queer events industry in 2009, hosting parties like Sodom at Goodhandy's and nights at The Barn. In 2012 he branched off into DJing and event planning. Since then he's cultivated queer event series like 2GETHER, Problemes D'Amour and ACID, as part of the larger movement to put techno and underground music at the forefront of Toronto's queer nightlife. He's DJ'd in Toronto and beyond with some of the biggest names in queer techno. In 2019 he organized the first Toronto Alternative Pride festival and this year he was one of the curators of Promise's Cherry Beach Summer event series.
Aeryn has a BA in Journalism and a Post-Graduate Certificate in Public Relations, both from Humber College. He also studied Digital Marketing at the University of Toronto's School of Continuing Education and went to an arts high school as a music major. He's written articles for The Huffington Post, Xtra, NOW Magazine, and more about sexual assault, queer history, biased policing online bigotry and misinformation, and arts and culture among other topics. He also appeared in an EGALE campaign against homophobic bullying in schools, an issue he's passionate about.
During the day Aeryn does social media and content creation for the Gay Men's Sexual Health Alliance where he's been part of efforts to educate followers on sexually transmitted and blood-borne infections, harm-reduction, the gay blood ban, racism, queer and trans history, sex-workers rights, mental health, stigma, colonialism, trans issues, and of course queer joy, love and culture. One of his best-known projects with the GMSH was a panel he moderated on sobriety in the scene with sober stars from Canada's Drag Race. Aeryn also worked on a campaign with Vancouver's Community-Based Research Centre calling for an end to Canada's ban on poppers.
Aeryn is committed to doing what he can to help move toward a future where the 2SLGBTQ+ community can live free of prejudice, and where queer and trans people are healthy, liberated, conscious and prosperous. "I don't think being queer, trans, or any other kind of minority should put a ceiling on anywhere you want to go in life, and we shouldn't have to fit a certain mould to be accepted," he says.
Follow @AerynPfaff on Instagram to see where you can find him DJing next and to follow his thoughts on sobriety.
https://www.instagram.com/aerynpfaff/
My Pride Story
"Who am I in a party situation without these things?": Sober Pride Ambassador Aeryn Pfaff on giving up substances and alcohol, navigating the queer party scene sober, and living your best life
"We have to love, accept and support the people around us, regardless of their choices. Some of us are sober. Some of us aren't. Let's all be friends."

Aeryn Pfaff
The queer party scene is no stranger to substances and alcohol. But what happens when queer folks get clean, or simply choose not to use substances?
This year's Sober Pride Ambassador is Aeryn Pfaff, DJ, musician, event organizer and content creator extraordinaire. We sat down with Pfaff to learn more about the sober experience, his tips for navigating the queer party scene, and the benefits of getting clean.
"I wanted to keep doing what I love, in a way that didn't have a health cost to me": on why he got sober
After working in the club scene for many years, Pfaff reached a turning point in January 2020. "As you get older, drinking in your work environment becomes harder to recover from. Hangovers aren't the same when you're 30 as when you're 21!" laughs Pfaff. "I realized that if I wanted to keep working in music, I had to cut out substances. I wanted to keep doing what I love, in a way that didn't have a health cost to me."
For Pfaff, music isn't just a job. It's a lifelong passion. Pfaff was a vocal music major in high school. As it turns out, music runs in the family. His father was a jazz pianist in South Africa and came to a similar crossroads earlier in his life. But where Pfaff decided to give up alcohol and substances altogether, his father decided to leave the live music industry and become a music teacher. "Music is definitely a big part of our family," adds Pfaff.
"Can I actually let loose and be fun without these things?": on queer, sober challenges
When it comes to how queer folks navigate not using substance or alcohol at parties, Pfaff has noticed a number of struggles. "There is often a reluctance to be different – people just want to blend in. To be the only one without a drink in your hand, or not in the blunt rotation, can put unwanted attention on people," Pfaff explains. "They may feel that if they decline, they will get a lot of questions or judgment. Sometimes it's just the anxiety of what to do with your hands."
But there are deeper issues that arise when people decide to give up substances. "People may ask themselves, 'Who am I in a party situation without these things? What social anxieties have I been covering up with this? Can I actually let loose and be fun without these things?'" says Pfaff. "The answer is yes. You can be fun and enjoy yourself. You will probably remember all the good times you had more clearly. And remember everybody's names the next day!"
Issues of self-worth can also arise. "People wonder if they are enough, without this stuff. You, your personality, your humor, your energy is more than enough," Pfaff advises. "Who you are without substances is wonderful. Being able to give that version of yourself to the people around you is a beautiful thing."
For some people, substance use is a strong part of their social networks. How can people maintain queer community when they decide to get clean? "Chosen family and support systems are really important. Going clean could mean taking a break from certain friends, then coming back into their lives when you feel more comfortable to do so. It could mean being less close to certain friends, but also meeting new ones who share your habits."
He recalls going to a house party with some friends after getting sober. "They were all doing mushrooms. I thought, 'What is this going to be like? Am I going to feel really uncomfortable?' But, I ended up having a really, good time with them. I haven't lost any deep friendships. It might not be as bad as you imagine."
Pfaff encourages people to remember that we live in a society where a lot of people drink and use substances. "Folks around you will make different choices and have different relationships to substances. Depending on how you feel about your own sobriety, that can be a big deal. And how big a deal that is might change over time. Focus on yourself, and what makes you healthiest and happiest."
Pfaff understands that sobriety isn't for everyone. Love and acceptance on both sides are key. "I'm not against drinking or using. If you can drink and use, and it doesn't affect your quality of life and mental health, then do your thing. But it's just not for me anymore," says Pfaff. "As much as you want people to accept your choices, it's important to understand the circumstances and experiences of everyone around you. We have to love, accept and support the people around us, regardless of their choices. Some of us are sober. Some of us aren't. Let's all be friends."
"When people are worried about being punished, they can't get help": on the importance of harm reduction
In addition to his music career, Pfaff's loves his day job doing social media and content for the Gay Men's Sexual Health Alliance. "I get to talk about sexual health issues, social issues like anti-racism, transphobia and harm reduction, things that I'm really interested in."
Last year he worked with the Community-Based Research Centre in Vancouver, on a campaign to end the poppers ban. This may seem counterintuitive. But for Pfaff, it all comes down to harm reduction. "Those bans don't make people safer or healthier. We've seen in study after study that punitive measures around substances have the opposite effect than people want them to," Pfaff explains. "When people are worried about being punished, they can't get help. If those substances are criminalized, then people can't have those honest conversations that lead to healthier lives. It just isolates people and makes them get high. And that's not positive."
For Pfaff, its more about looking inward than sobriety. "It's not my belief that everyone has to be sober. My belief is examining your own use and asking for help if you need it. Adjusting what you do is a healthy part of being a person," notes Pfaff. "That self-reflection with your health and long-term happiness in mind is a positive thing."
"There was more of a magnifying glass on it": on queer, sober struggles during the pandemic
Pfaff is grateful that he decided to get clean just before the pandemic hit. In the community, he has seen how the pandemic has impacted both sober individuals, and those who actively use substances. "People had a lot of time to themselves. A lot of people have been exploring sobriety or reducing their use. They had less to distract themselves. If people found themselves drinking all the time, there was more of a magnifying glass on it, encouraging people to wonder whether the substances were helping or not."
"But there has definitely been the danger of people using drugs alone. This isn't good, because if something happens, they have no help," explains Pfaff. "There are organizations you can call to use on the phone with an attendant, and safe consumption sites. But access to in-person services over the pandemic has been tough, whether it's harm reduction, mental health, addictions, or sexual health services. Luckily, a lot of community members are saying, 'I'm here for you, if anyone wants to talk about this.'"
"That sense of belonging is really a beautiful thing": on his first Pride
Although he was subject to intense bullying as a child, he later found queer community at his high school of the arts in Mississauga. He came out when he was 14 and attended his first Pride in Toronto two years later, in 2006. "To come to Pride and discover that there were a lot of people like me, was amazing. That sense of belonging is really a beautiful thing. And the sense of possibility," Pfaff explains. "If you're a kid who struggled, to come and different kinds of queer adults is a big deal. We see heterosexual futures possibilities around us all the time. But to see different kinds of families, and different kinds of queer adults from straightlaced to artsy was beautiful. It's great to see different possibilities of where your life could go. That was really meaningful at that age."
Now, Pfaff's family has a wonderful tradition of having brunch together every Pride Sunday. He has several queer family members, and many young folks have been attending Pride since they were children.
"The laws around industry have to change": on environmental sustainability in the queer community
When it comes to how the queer community has taken on environmental sustainability, Pfaff feels that we're not where we need to be. "Folks in the queer community have been talking about environmentalism for a long time. When I was a kid, it was framed around the ozone layer. Now we've come to understand that global warming has much wider reaching effects," notes Pfaff. "People are just pretending it isn't happening."
Pfaff applauds Pride Toronto for putting environmental sustainability front and centre at this year's festival. But, he feels that government needs to better hold industry to account. "It's a systemic issue. The laws around industry have to change. Making sustainable choices as an individual is a fantastic thing to do. But the vast majority of harmful emissions are industry related," notes Pfaff. "Industries need to follow Pride Toronto's example. The government needs to mandate those changes. I can take a shorter shower, but that's not the solution. I'm happy to turn the lights off when I leave a room and use paper straws. But we need big, legal changes to fix this problem."
"The closer we get to justice, the louder that side can get": on racism in the queer community
Pfaff has seen conversations around anti-racism renewed on a large scale over the last few years. He was invigorated by the actions of Black Lives Matter at 2016 Pride, and encouraged by the reminder that Pride is about everyone in the community, not just white, gay men.
But post-2016 conversations have revealed an uncomfortable truth. "The intercommunity fight afterwards was really tough. Whenever things like that happen, all the prejudices come out of the woodwork that were hidden before," Pfaff notes. "A lot of us are talking about justice. And then there is a very loud side who is against that. The closer we get to justice, the louder that side can get. We're in this weird place where there is a lot of affirming information, if you know where to find it. But there's also a lot of really disheartening things happening in the world."
Pfaff's father and his family were people of mixed race who lived through Apartheid in South Africa. "We've been talking about race around the dinner table since I was a kid. All families have their own relationship to race. I just hope that white people can listen to people of color and learn from history. We could go somewhere beautiful, wonderful, and equal."
"People are still suffering, and people are still winning": what keeps him advocating and celebrating
Given his own sober advocacy work and personal experiences, what keeps Pfaff advocating for his community? "As long as people are still suffering, we've got to keep working. It's really that simple."
As it turns out, his reasons for celebrating the queer community aren't that different. "What keeps me celebrating, is that people are still suffering, and people are still winning," Pfaff explains. "People are still prevailing over their suffering, and that's what we celebrate. Where one person is suffering, another person is prevailing. Both are evidence that we can celebrate and keep working hard to bring everyone on board."
Social Media Accounts and Websites
---
My Pride Story written by: Anna-Liza Badaloo (she/her) is a writer and consultant working at the intersection of health, environment and social justice.