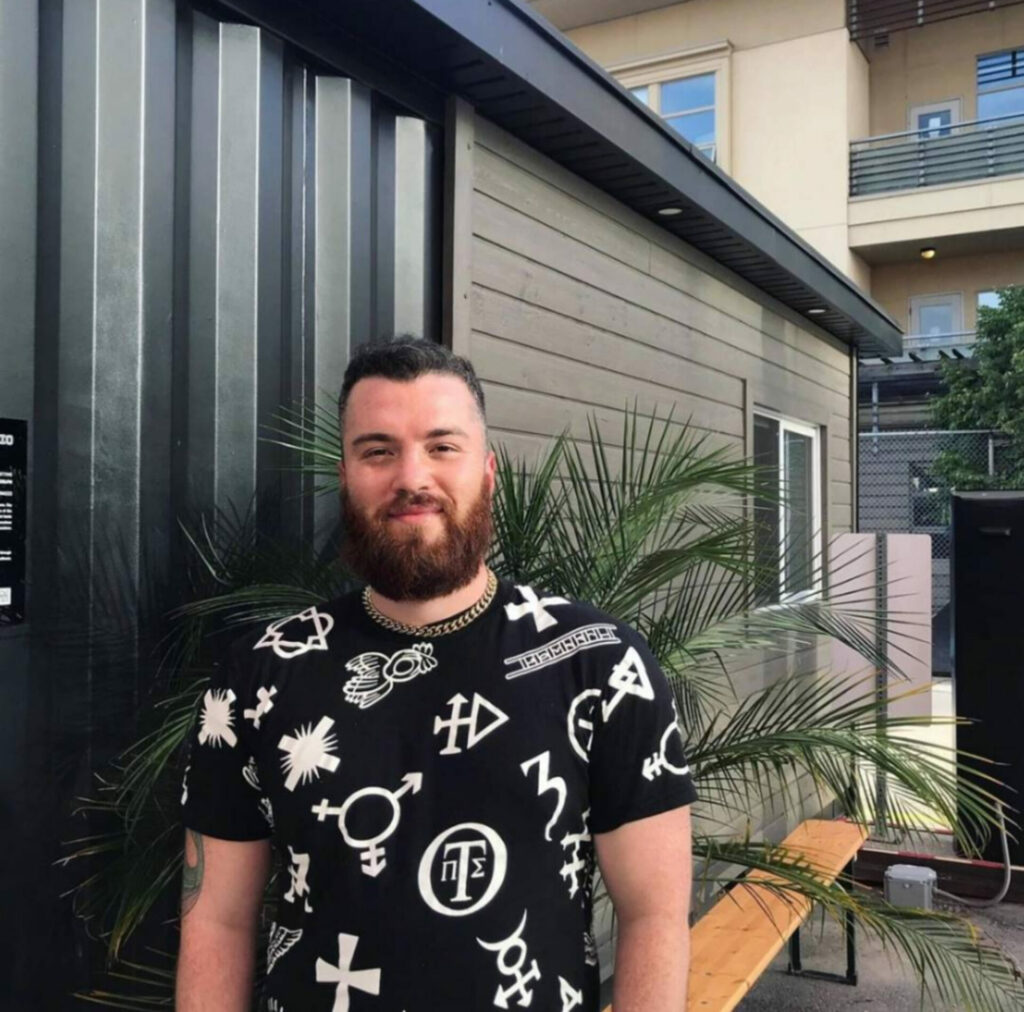 Aeryn Pfaff is a social media manager, journalist, DJ and activist based in Toronto. He is a gay man who works creating educational content on HIV, AIDS and sexual health for gay men, queer trans men and non-binary people, and he's lit up dancefloors in Toronto and beyond for 10 years. He's a biracial millennial with ADHD who likes chicken parmesan sandwiches.
Aeryn has detailed the progress of his sobriety for the last two and half years online, despite working in entertainment. "I really want queer and trans people to know that you can be sober and live a creative, exciting life. You can be an artist, you can love being around music and friends, and you can also examine your alcohol intake and substance use and make changes if you want to," he says. "I'm not against using it for everyone. If drinking or drugs don't diminish your quality of life or affect your mental health, that's great. Everyone's journey is their own and this is mine. If watching my journey helps you reflect on yours and see what's possible, that's what I want."
Aeryn believes in creating space online and in person for introspection, vulnerability and growth. "Open conversations about mental health are a newer idea than some of us realize. The idea that therapy, addressing our trauma, talking about our feelings, and taking medications if we need them are good things is very new," he says. "Stigmas around this stuff don't make us happier or healthier."
Aeryn began working in Toronto's queer events industry in 2009, hosting parties like Sodom at Goodhandy's and nights at The Barn. In 2012 he branched off into DJing and event planning. Since then he's cultivated queer event series like 2GETHER, Problemes D'Amour and ACID, as part of the larger movement to put techno and underground music at the forefront of Toronto's queer nightlife. He's DJ'd in Toronto and beyond with some of the biggest names in queer techno. In 2019 he organized the first Toronto Alternative Pride festival and this year he was one of the curators of Promise's Cherry Beach Summer event series.
Aeryn has a BA in Journalism and a Post-Graduate Certificate in Public Relations, both from Humber College. He also studied Digital Marketing at the University of Toronto's School of Continuing Education and went to an arts high school as a music major. He's written articles for The Huffington Post, Xtra, NOW Magazine, and more about sexual assault, queer history, biased policing online bigotry and misinformation, and arts and culture among other topics. He also appeared in an EGALE campaign against homophobic bullying in schools, an issue he's passionate about.
During the day Aeryn does social media and content creation for the Gay Men's Sexual Health Alliance where he's been part of efforts to educate followers on sexually transmitted and blood-borne infections, harm-reduction, the gay blood ban, racism, queer and trans history, sex-workers rights, mental health, stigma, colonialism, trans issues, and of course queer joy, love and culture. One of his best-known projects with the GMSH was a panel he moderated on sobriety in the scene with sober stars from Canada's Drag Race. Aeryn also worked on a campaign with Vancouver's Community-Based Research Centre calling for an end to Canada's ban on poppers.
Aeryn is committed to doing what he can to help move toward a future where the 2SLGBTQ+ community can live free of prejudice, and where queer and trans people are healthy, liberated, conscious and prosperous. "I don't think being queer, trans, or any other kind of minority should put a ceiling on anywhere you want to go in life, and we shouldn't have to fit a certain mould to be accepted," he says.
Follow @AerynPfaff on Instagram to see where you can find him DJing next and to follow his thoughts on sobriety.