Pride Toronto supports our communities in the pursuit of our unequivocal rights to be known, be heard, be understood, be accepted, be respected, and to celebrate the beauty of who we are.
No matter who you love or how you identify, you will be safe, valued, equal, and proud.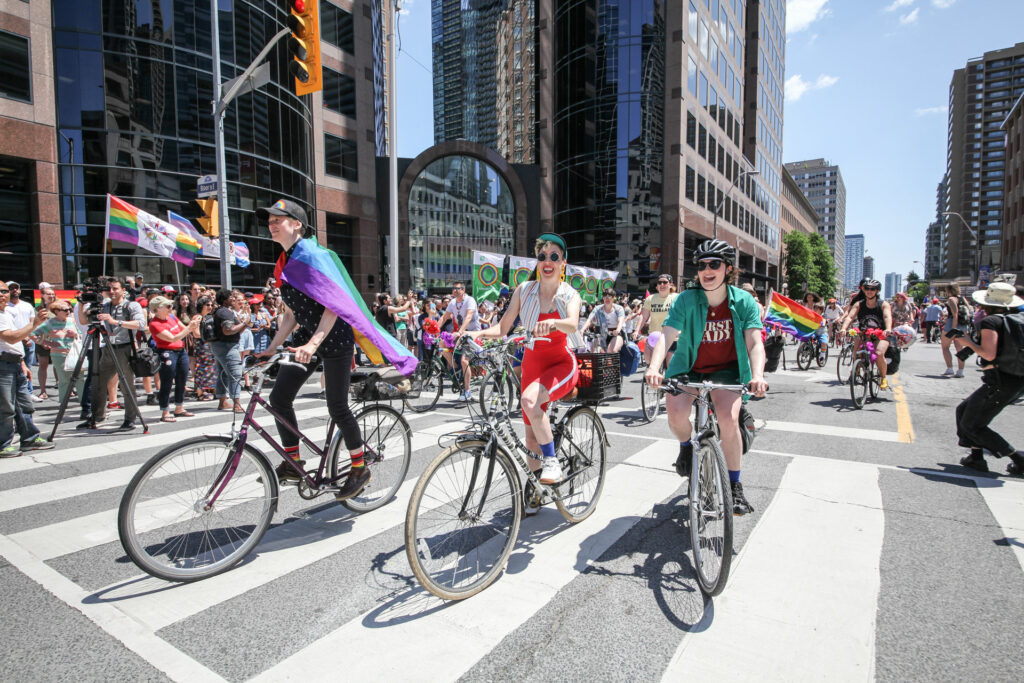 Our community has the right to be free from fear, free from oppression, and free to discover and love as our true selves. We work to honour and advance the freedom of everyone in our community.
Over 35 years ago, our community was founded on the fundamental truth that love prevails and we are all deserving of it. We commit to love as the method and the goal in every interaction.
The voices and stories of our community are as diverse as they are beautiful. We work to make sure that each of us can be heard and that we listen to each other.
Our community is made up of many identities- many of those in evolution. Understanding is how we will come to know and care for each other. We will help to foster understanding within our community and beyond.
Pride Toronto has identified five key strategic pillars as priority areas of development from 2020-2025. Strategic Plans and KPIs have been created for each pillar and will be updated on progress annually. 
Environmental Sustainability
A commitment to undergo a thorough environmental sustainability assessment and implement short and long term goals for the organization to undertake. All of our environmentally sustainable initiatives will be posted publicly to ensure transparency, accountability and commitment of Pride Toronto.
We aim to work better with the Indigenous and two-spirit community to deepen our relationships and reflect their creativity and advocacy throughout the entire festival more authentically.
Actively identifying and eliminating racism by changing systems, organizational structures, policies and practices so that power is redistributed and shared equitably.
Harm Reduction and Public Safety
We aim to create safe spaces that promote wellbeing for everyone at all our events, throughout the festival, and beyond.
Representation in Arts and Culture
We aim to develop events that reflect our diverse community, amplify marginalized artists, and give greater visibility to diverse forms of 2SLGBTQ+ creativity.