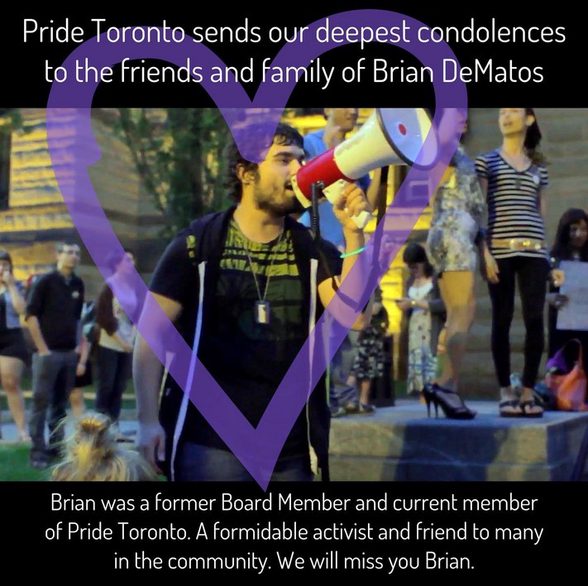 A few words from Brian's fellow Pride Toronto Board Members, Samantha Fraser, Grant Gonzales and leZlie lee kam:
Sam:
"So sad and shocked to hear of the passing of Brian De Matos. We served on the board of Pride together for my first two years, and I can't at all quantify the amount I learned from him.
Brian taught me so much about activism, about staying soft while the world tries to make you a hard shell, and about doing the work because it simply needs to be done.
I am absolutely floored by this news. We had just spoken the other day and, again, he was working tirelessly to better the lives of others in need.
Sending so much love to his friends and family that knew him much better than I ever had the chance to. We've lost a truly wonderful human."
Grant:
"Brian was a selfless community activist and leader who cared deeply about the most marginalized people. 
We would spend hours together discussing what we wanted to achieve for the 2SLGBTQI+ community. While we often disagreed vehemently on our approaches, our goals were often the same. I begrudgingly enjoyed when he poked fun at our political differences
Brian was always kind, generous, and funny, and was always there for me when I needed his advice or help. I have so many fond memories of Brian over the short period of time I've known him. I miss him deeply." 
leZlie:
"I first met Brian in January 2021, when he was Secretary of the Board. I was having difficulties with accessing a Board meeting due to my challenges with technology and Brian immediately stepped up and offered to help me. He made sure I always had the meeting links and minutes and helped accommodate me in other ways with technology.
He said he was happy that a Brown Jurassic Dyke Senior was finally on the Board! We bonded over advocacy, equity  and human rights work, and shared many of the same values and beliefs. We often chatted about our addictions and substance use challenges, and ways of coping as activists.
Brian called me one afternoon before a Board meeting, to make sure I had everything I needed. I kept hearing noises in the background and asked if he was in a meeting. He told me that he was in the hospital for a medical issue, but that the work had to go on.
I remember seeing him for the first time without his "COVID" face – short hair and trimmed beard – and told him he was very handsome. He replied very shyly, saying that his appearance didn't matter and  the work  came  first.
When I was in the hospital due to a badly broken ankle, and I was on a modified leave from the Board, he kept in touch to see if I needed anything and would send me a synopsis of the meetings because he felt my voice was still important even if I couldn't be there in person.
We became fast friends. Brian was always kind to me, very caring, charming, and had a wicked sense of humour. I will treasure the short time I had with him and honour the memories of his hard work and dedication to causes we bonded over – true equity and inclusion.
Brian, I'm humbled and honoured to have been your friend and ally."
Thank you Brian for your service and dedication to Pride Toronto. You will be missed.