Pride Toronto welcomes Priyanka to the TD Main Stage with her live Taste Test show and Patrice Roberts at Blockorama! Signature Event Tickets are now on sale for Pride 2022! Black Coalition for AIDS Prevention (Black CAP)  and Lady Phyll announced as Pride 2022 Charity of Choice and International Grand Marshall. 
Pride Toronto will ensure Pride Month and Festival Weekend will be organized in alignment with the City of Toronto's Public Health recommendations.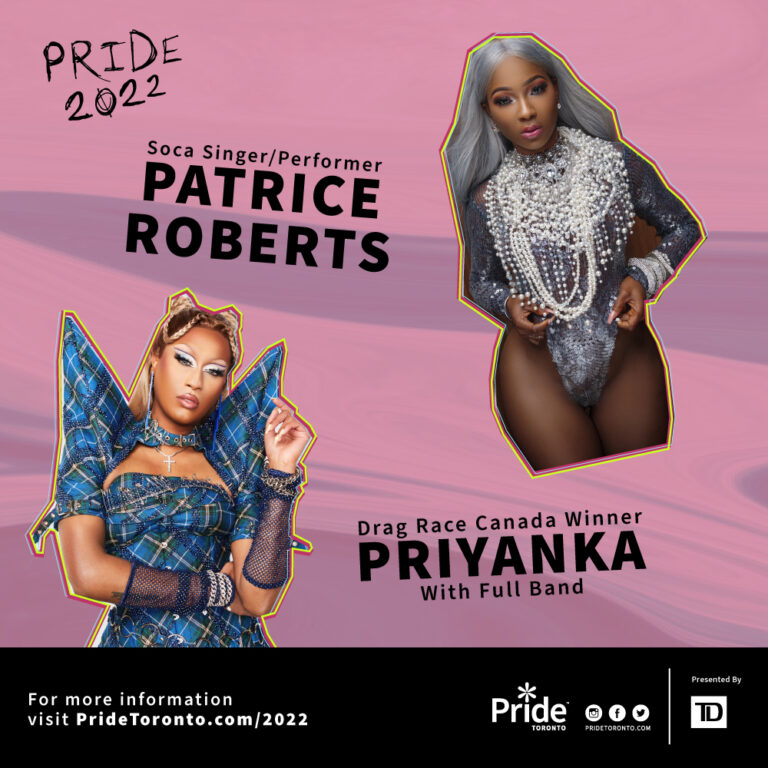 Additional Festival Weekend Headliners
Priyanka's Taste Test Show
Winner of Canada's Drag race season 1 and our hometown Queen, Priyanka brings Taste Test,  her debut EP Live to the TD Main Stage on Sunday June 26! What's her name? Priyanka is a multi-talented performer, musical artist, and international entertainer taking the world by storm. But that's no surprise. From hosting as Mark "Suki" Suknanan on the legendary children's network, YTV, to her iconic 2020 crowning as the first-ever winner of Canada's Drag Race, Priyanka's star power and charisma have always been obvious. Now, with her recent debut EP Taste Test hitting 5+million streams and launching the viral hit single, Come Through, the question isn't "what's next," it's what isn't?

Patrice Roberts
Blockorama, produced by Blackness Yes! is excited to host soca artist Patrice Roberts, who hails from the Caribbean twin-island Republic Trinidad and Tobago. She was named the youngest female Road March winner for her collaboration with Machel Montano titled "Band Of The Year" in 2006 and will be bringing the party to the Bud Light Seltzer Wellesley Stage on Sunday June 26th. 
Signature Event Series
The long-awaited return of in person events will include all three Pride Toronto Signature events throughout June. 
"The Fierce & The Reckless" Pride 2022 Kick Off Party at El Mocambo
with the Looking and Feeling Fierce Mini-Ball – June 8, 2022
Dress to impress! Put on your FIERCE party outfit and make your way to El Mocambo for the Pride month launch Party. We're taking it back to the warehouse parties with old-school glam, FIERCE drag, and avant-garde spectators – anything goes! House anthems and ballroom beats from Toronto's own fierce DJ Valeroo and from NYC Ballroom ROYALTY, DJ Byrell The Great. Enjoy an extra special performance from Juno nominated diva Ceréna and the Looking and Feeling Fierce mini-ball, hosted by the first Canadian Ballroom house; The House of Monroe. Are you feeling FIERCE?
Tickets Available Now! PrideToronto.com/Fierce

Cabana Pool Party with Symone at Cabana Pool Bar
Presented By Bud Light Seltzer – June 15, 2022
Come make a splash and join us at Cabana Pool Bar for a night of hot drag performances by local legends Sofonda Cox, Luna Dubois, and Miss Fiercalicious. DJ's Karim Olen Ash and Cesar Murillo will keep the beats going while you bask in the sun, vibes, beautiful people, and beautiful view… and we're not just talking about the city skyline! GoGo dancers Liana, Milkshake Boy, and Shadow Noir will be splishing and splashing their way around the pool with The Ebony Enchantress herself, Symone of Rupaul's Drag Race will be headlining the night.
Tickets are already on sale, VIP is Sold Out – PrideToronto.com/Cabana 
"Til Sunset: The Jam Down" at Gibraltar Point on Toronto Island – June 19, 2022
The Ultimate Day Party! With the skyline as our backdrop, we take over the island with Toronto's A-List entertainers. Grab a drink  & allow DJs Pogi & Blacks to get you in the right mindset for the afternoon's festivities. Come enjoy delicious Jerk Chicken, and take in the performances of our favourite Toronto Kings and Queens; Jada Shada Hudson, Divine Darlin, Canada's Drag Race season 2's Kimora Amour, and Prince Many Dingo.  With a full belly and an afternoon in the sun, dance the evening away to our amazing DJ Headliners Craig Dominic & Carma.
Tickets Available Now! PrideToronto.com/TilSunset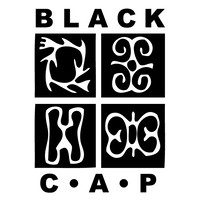 Charity of Choice and International Grand Marshal
Pride Toronto is proud to announce the first of many honoured positions for the Pride 2022 commemorations. Chosen by our community advisory panel; the Charity of Choice is The Black Coalition for AIDS Prevention (Black CAP) Canada's largest organization dedicated to mitigating the impacts of HIV/AIDS on the Caribbean, African, and Black communities.

About Pride 2022 Charity of Choice, Black CAP
Since its founding in 1989, Black CAP has provided culturally relevant outreach, prevention, and support services to reduce the spread of HIV/AIDS among Toronto's Black population and enhance the quality of life for those already living with or affected by HIV/AIDS. As Black people continue to be disproportionately impacted by HIV/AIDS—making up 20% of Ontario cases despite being merely 5% of the province's population—their experiences are made worse by the stigma, racism, homophobia, and poverty that create inequitable access to essential supports and services. Black CAP works specifically to confront these barriers.

With an approach rooted in anti-oppression and equity, and under the motto "All Black People's Lives are Important," Black CAP offers a range of services and programs catered to the identities, experiences and needs of Toronto's richly diverse Black population. From awareness campaigns and harm reduction programs to newcomer settlement services and peer support groups, Black CAP's programming is a holistic and expansive response to the Black community's needs. Over the past 33 years, Black CAP has been able to extend the reach of its mission and mandate thanks to local, provincial, national, and international campaigns and initiatives; purposeful partnerships and collaborations with like-minded organizations; the meaningful involvement of people living with HIV/AIDS; and the tireless commitment of their staff and volunteers who recognize the urgent need for this work. The progress Black CAP has made is remarkable, but the work is far from done.
To learn more about Black CAP's mission and how you can contribute, visit http://www.blackcap.ca/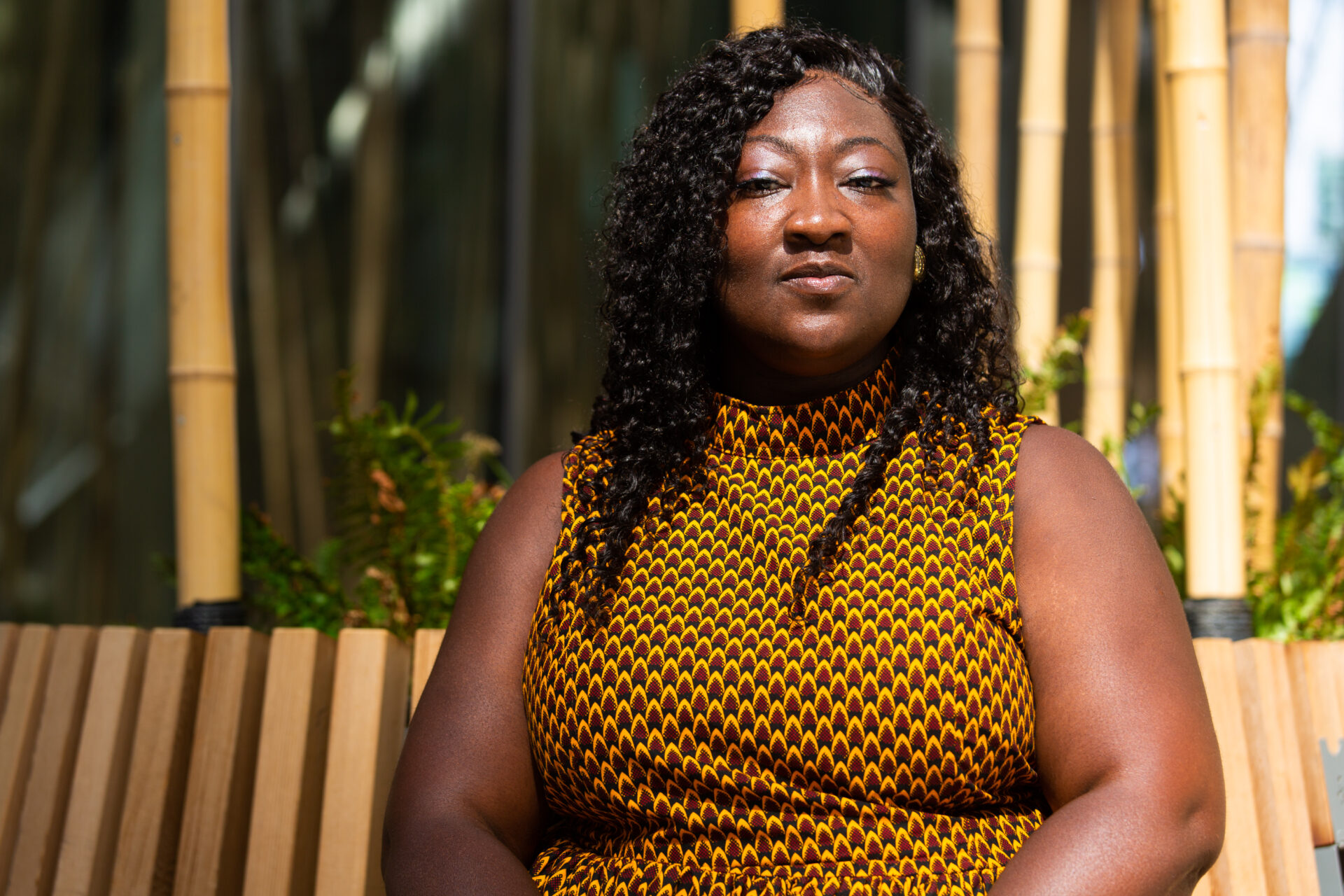 About Pride 2022 International Grand Marshal, Lady Phyll
Phyll Opoku-Gyimah is the nucleus of the award-winning celebration and protest that is UK Black Pride. Widely known as Lady Phyll – partly due to her decision to reject an MBE in the New Year's Honours list to protest Britain's role in formulating anti-2SLGBTQ+ penal codes across its empire – she is also the executive director of Kaleidoscope Trust, an organization working to uphold the human rights of 2SLGBTQ+ people around the world; a community builder and organizer; an Albert Kennedy Trust patron, and a public speaker focusing on race, gender, sexuality and class. She's regularly called upon to advise nascent 2SLGBTQ+ organizations around the world to help leaders create cogent organizing strategies, establish robust partnership networks and work effectively in service of the 2SLGBTQ+ community.