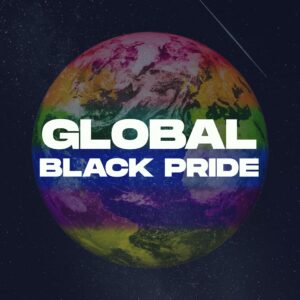 Pride Toronto is excited to announce a collaboration with Global Black Pride and Blackness Yes to produce the first in-person and hybrid event in Toronto.  
Global Black Pride (GBP), the first global Pride event that brings together Black LGBTQI+ communities across all continents, will hold its first ever physical programming in Ontario's capital, Toronto, in 2022. This global event will celebrate Black culture and diversity, providing a space for activists and community-based organizations across the globe to engage and reflect. 
Pride Toronto is honoured to be partnering with GBP, Blackness Yes!, and community agencies and leaders to bring the first in-person event to the City of Toronto on July 28-31, 2022. This additional programming will help build on the incredible work Blackness Yes! has been doing for the community for many years and brings additional attention and learnings to the experiences of the Black 2SLGBTQ+ community worldwide. 
"Being the host city of the first in person Global Black Pride is indeed an honour and  we are looking forward to creating that global village where we can talk and play. I am truly looking forward to welcoming everyone back to Toronto in 2022. " – Sherwin Modeste, Executive Director of Pride Toronto
Founded in 2020 with the theme, "First-Ever Global Black Pride is a Riot," the first event, held virtually, had over 7 million viewers around the world. In June of 2021, the second GBP saw over 10 million viewers with guest speakers including the President and First Lady of the United States, Joe Biden and Dr. Jill Biden.
Global Black Pride vice president Rikki Nathanson shares, "After having two virtual events, our team longed for the day when we would see our beautiful LGBTQI+ siblings basking and shining in their powerful Blackness in person. We are thrilled to be partnering with Pride Toronto and Blackness Yes! to bring our first ever in person Global Black Pride event to life in Toronto, Canada."
Blackness Yes! is a community-based collective that works year-round to celebrate Black queer
and trans history, creativity and resistance with a 21-year history of building and sustaining safe spaces for African, Black and Caribbean (ABC) LGBTQI+ communities through art, music, AIDS awareness, and outreach. Blackness Yes! has been organizing Blockobana, Toronto Black Pride for 11 years. In 2022, the collective will be collaborating with Global Black Pride on their annual Blockobana, the day music and arts festival where LGBTQI+ African, Black and Caribbean people celebrate culture free from homophobia, transphobia, and anti-black racism. Blackness Yes! will play a crucial role in ensuring programming honours the historical context of Toronto's Black community. 
"Having events, programs, and activities that speak to the very rich diversity of what the Black experience looks like locally and globally is very important to Global Black Pride. We aim to have moments of celebration, but also of commemoration, calls to action, and centering the ongoing work for equity and justice for Black LGBTQI+ people across the globe." Gerald Garth, GBP Head of Events and Communications states. "We are also committed to ensuring that Global Black Pride is accessible and available across the globe. As we build this global movement, we are also committed to an inclusive and wide-reaching movement that brings all Black LGBQTI+ experiences and equity to the forefront unapologetically."
For more information about GBP programs, activities, and events and to connect with leadership, contact info@globalblackpride.org.  For more breaking news regarding partnerships, talent, engagement, involvement, and so much more, follow @GlobalBlackPride on Facebook, @Global_BlackPride on Instagram, @GlobalBlakPride on Twitter, or visit www.globalblackpride.org! 
About Global Black Pride (GBP) 
Global Black Pride has the mission to serve as a global platform to celebrate all Black LGBTQI+ diversity and to build a global movement to fight for freedom, liberation, and justice for all Black LGBTQI+ communities across the globe. 
Press/ Media Contact
Gerald Garth, Head of Media & Communications 
323-229-5854 
info@globalblackpride.org