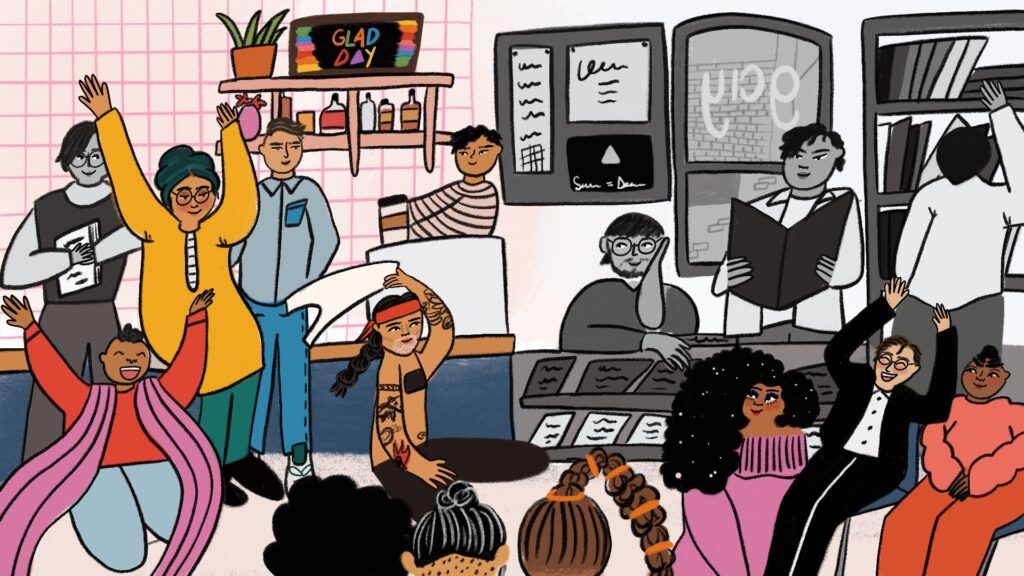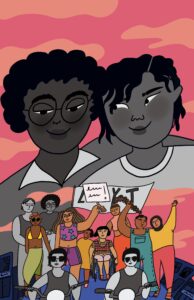 I wanted to illustrate the ways in which two-spirit, queer and trans people of colour have been here in Toronto, historically – and the ways in which they are (re)claiming and transforming spaces today in profoundly meaningful ways. I was inspired by the QTBIPOC-centered (re)mappings of Toronto, done by Rio Rodriguez and Amandeep Kaur Panag, and the editors and contributors of "Marvellous Grounds." I was inspired by people like Mx. Wolverine, illustrated in the Glad Day image, who uses drag to tell political stories of Indigenous resistance, resilience and joy.
When looking at images of queer and trans histories in Toronto, they are often quite white. I wanted to illustrate how these historically white spaces are being taken up and transformed by 2SQTBIPOC. And I wanted to illustrate the reality that we have been here. That there are 2SQTBIPOC that continue to tell their stories from the 80s and the 90s' – and long before this. That their stories continue to teach people like me that two-spirit, queer and trans people of colour have histories here, too. We have histories here, too. There is something really magical about this.
---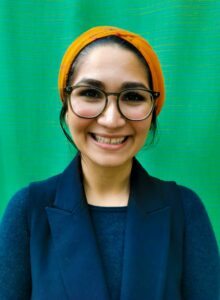 Roza Nozari (She/Her)
Roza Nozari, known as YallaRoza on social media, is an illustrator and storyteller based in Tkaronto ("Toronto"). She is a tender-hearted queer, Muslim femme with ancestral roots in Iran. Her art practice is deeply informed by her own lived experiences, the communities she belongs to, and the profound critical thought of BIPOC scholars, healers, activists and community/cultural workers. Weaving together words and visuals, she tells stories of personal and collective wounding, of healing, of community, and radical self-love. Her art is a radical re-imagining of queer and trans-affirming worlds, rooted in justice, in community, and in our collective healing. She strives to create art that feels like love letters to the communities she belongs to – art that says "I see you, I hear you, and I honour you – as you are."
Her art portfolio has included extensive collaborations with local, national and international organizations – from The 519 to Warner Music. Her work has also been featured in magazines, blogs and news articles, including CBC, Queerty, GQ Portugal and Elle Magazine.
Roza and her art can be found on Instagram: @YallaRoza.
---