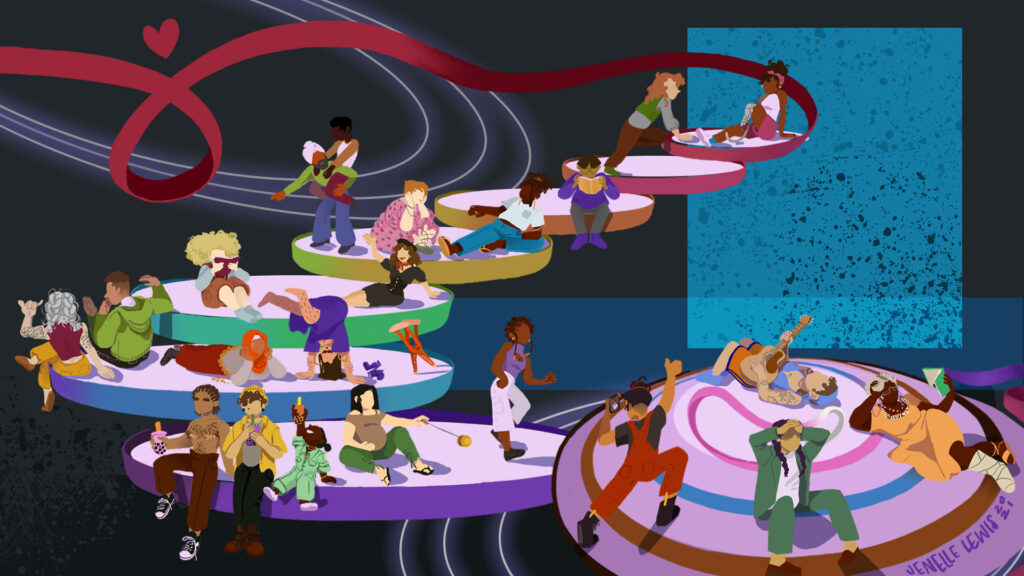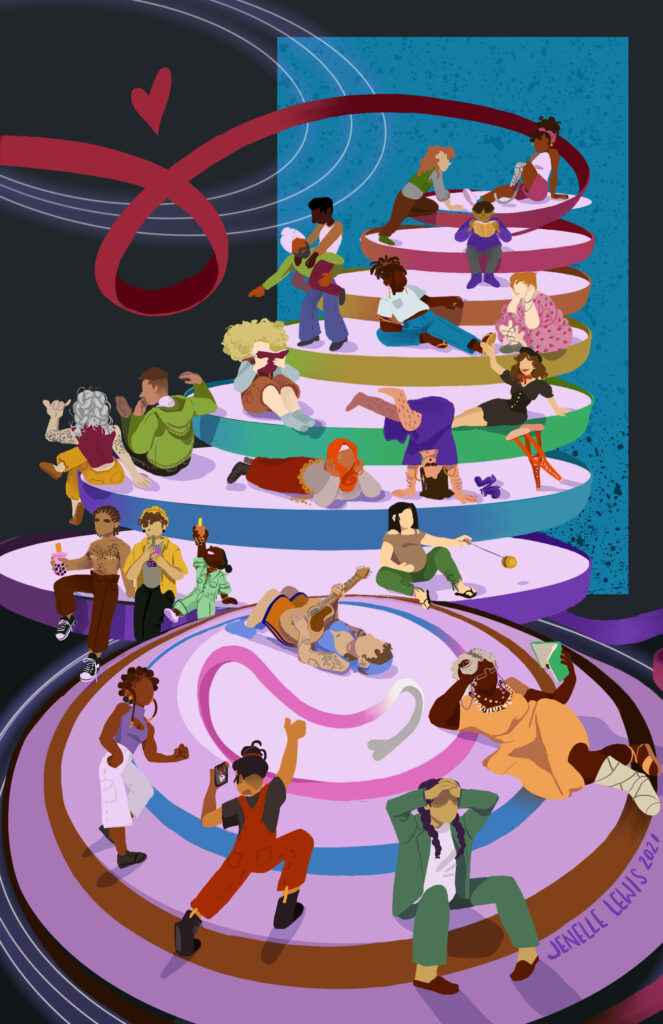 In a world where poor, racialized and, disabled people are over surveilled, over policed, and cast out by wealthier members of the LGBTQIA+ community, The Steps were a safe haven. The Steps was a popular hangout spot in Toronto's gay village on Church street during the 80's and 90's. It was public communal place where people weren't required to buy anything, consume any alcohol, or conform to societal expectations of what it meant to be queer (which in that time, was mainly white and predominately male). Queer and disabled folks of all shades, shapes and gender identities gathered here at all hours of the day to meet, converse, and debate political issues in the community. Alas, I am a gaybie and have never visited this wonderful sight and due to negative stereotypes that follow marginalized people at every turn, this meeting ground was demolished in 2005 to reduce "loitering" and "drug use". In this illustration I'm re-introducing and re-imaging what a shared space like this could look like in a post covid future. Many people (and disproportionately people of colour), have lost their jobs and are looking for a sense of community. After a year of lockdown many people just cannot afford to gather in spaces that require a fee anymore. These funds are now allocated to paying rent and feeding families only. A space like this is crucial to rebuilding life and communities post covid. This is a futuristic view into what a space like this could look like if we demand it from the city. What a unique experience the queer community of the 80s and 90s got to have, and hopefully myself, and future queers get to encounter and bask in.
---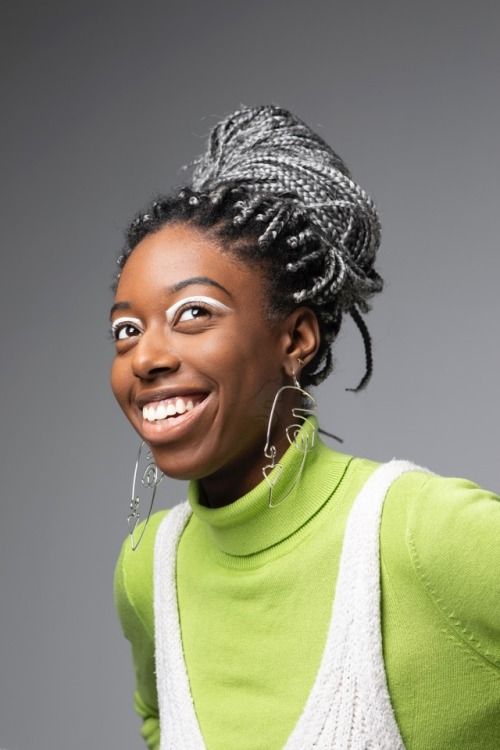 Jenelle Lewis (She/Her)
Jenelle Lewis (she/her) is a Black and Queer freelance illustrator, born and raised in Jane and Finch Toronto. Growing up, Jenelle was inspired by graphic novels' ability to capture so much motion alongside narrative in a single drawing and strives to emulate that in everything she does today. Her style ranges from bouncy hand-drawn typography to graphic design, but her main focus is illustrative, expressive comics and designs, as well as portraiture. In 2019 Jenelle won a graphic design contest, for Starbucks, against 1,518 stores across Canada and has worked for various businesses across Toronto, ensuring that acceptance and community is at the forefront of everything she does. Her goal is to show the world fluid concepts and designs no one has seen before, and she often thinks outside the box to get there.
You can find her at @stickto_otherartists on Instagram!
---